Jump to navigation
Jump to search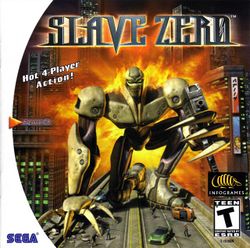 Slave Zero is a 1999 Infogrames (now Atari) video game for the Sega Dreamcast and Windows.
Taking place 500 years in the future, the game tells the story of Lu Chen, a sinister world overlord more commonly known as the SovKhan, who rules the Earth from a massive complex called Megacity S1-9. The only resistance to the SovKhan is from an ancient order of warriors known only as the Guardians. The SovKhan's army is nearly invincible as it is, and it is growing by the day, his most powerful units being 60-foot-tall humanoid robots called "Slaves."
The Slaves themselves are grown from a combination of artificially created cybernetic embryos and a mysterious compound called NTR95879, referred to as "dark matter" by the Guardians. Now the Guardians' only hope of overthrowing the SovKhan and his cybernetic army lies in a single captured Slave unit, which will have the mind of a specially trained Guardian agent permanently downloaded into it. The game follows "Slave Zero" as it wages war against the SovKhan's forces throughout every part of Megacity S1-9.
Table of Contents
External links
[
edit
]