Jump to navigation
Jump to search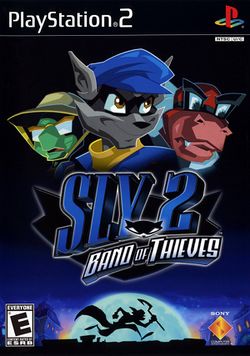 Neoseeker Related Pages
Links
Sly 2: Band of Thieves is a PlayStation 2 video game by Sucker Punch and SCEA released in 2004. This title is a sequel to the game Sly Cooper and the Thievius Raccoonus and part of the Sly Cooper video game series.
The sequel has a variety of changes, particularly in level design; the ultimate goal is to acquire the Clockwerk parts, one of which can be found per "world". Sly 2 features a health meter for characters such as Sly, Bentley and Murray, replacing the "charm system" of the first game. It also now takes several hits to defeat local guards. Other changes include missions where the player controls not Sly, but Bentley or Murray, who are given their own unique skills and are able to do much more than in the previous game. However, Sly remains the central focus and character despite these changes to character roles. Skills can be unlocked by opening safes in each world, as per the previous game, but skills are also acquired by collecting coins and purchasing them from safehouses.
Two years have passed since Sly Cooper defeated Clockwerk. The game begins with Sly, Bentley and Murray breaking into the museum of natural history in Cairo, in order to steal and destroy the Clockwerk parts, so that the threat will never return. After going smoothly, the heist is suddenly ruined, as it appears that the Clockwerk parts have already been stolen. Carmelita Fox arrives and accuses Sly of stealing the parts, but her new assistant, constable Neyla suggests that the Cooper Gang isn't actually behind it, and that it resembles a "Klaww Gang" job. After a quick getaway, they start their research about the mysterious Klaww Gang, and begin to pursue them.
Table of Contents