Jump to navigation
Jump to search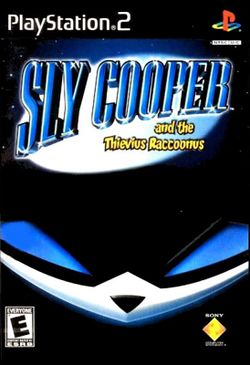 Neoseeker Related Pages
Links
Sly Cooper and the Thievius Raccoonus, known as Sly Raccoon in Europe and Australia and Kaitō Sly Cooper (怪盗スライ・クーパー, Kaitō Sly Cooper? lit. "Phantom Thief Sly Cooper") in Japan, is a platform video game created by Sucker Punch Productions, and released on the Sony PlayStation 2 in 2002, subsequently republished as a Sony Greatest Hits title. The game was followed by two sequels, Sly 2: Band of Thieves and Sly 3: Honor Among Thieves. On November 9, 2010, Sly Cooper and the Thievius Raccoonus, as well as its two sequels were released together as The Sly Collection, a remastered port of all three games on a single Blu-ray disc as a Classics HD title for the PlayStation 3.
The game focuses master thief Sly Cooper and his gang, Bentley the Turtle and Murray the Hippo, as they seek out the Fiendish Five to recover his family's "Thievius Raccoonus", a book with the accumulation of all of Sly ancestors' thieving moves. The game was praised for using a variation on cel-shading rendering, which is used to create a film noir feel, while still rendered as an animated movie, though criticized for being too short.
Sly Cooper is set in a world inhabited by anthropomorphic creatures. The game uses cutscenes to present the background of the eponymous Sly Cooper, a raccoon who descended from a long line of master thieves. However, that lineage became crippled when a gang known as the Fiendish Five, led by Clockwerk, a cyborg-like owl with a hatred for the Cooper line, killed Sly's father while Sly was still young. The Five also took the "Thievius Raccoonus", a book recording the journeys and skills of all the ancestors of the Cooper line. The Thievius Raccoonus was split into five pieces among the Five, and dispersed to their various personal lairs. Sly and the gang spend the game going to each gang member's lair and retrieving portions of the book.
Table of Contents