Jump to navigation
Jump to search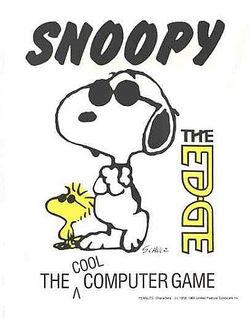 Designer(s)
Christian F. Urquhart (ZX/CPC),
Glenn Benson (CPC),
Justin Garvanovic, Sean Griffiths (Amiga),
Glyn Kendall (Amiga/CDTV)
Release date(s)

 1989

Genre(s)
Adventure
Players
1
Modes
Single player
Snoopy (full title: Snoopy: The Cool Computer Game in the cases of the ZX and CPC versions, or Snoopy and Peanuts in the case of the Commodore Amiga version, and Snoopy in: "The Case of the Missing Blanket" in the case of the Commodore CDTV version) is an adventure game that was developed by Consult Software (for the cases of the ZX and CPC versions) and Softek International (in the case of the Amiga and CDTV versions) for The Edge, and initially released on the Sinclair ZX Spectrum, Amstrad CPC, and Commodore Amiga in 1989 (but later also for the Commodore CDTV, in 1991); it's based on the United Feature Syndicate comic strip Peanuts, and to a lesser extent, the Melendez Productions television series that it begat, The Charlie Brown and Snoopy Show, in 1983.
This is taken from the back of the cassette's (or disk's, in the case of the Amiga version, and CD's, in the case of the CDTV version) inlay card (the front of which is shown in the image seen to the right):
Snoopy, Woodstock, Good ol' Charlie Brown, and the rest of the
Peanuts gang are here at last on your home computer!
Linus has lost his blanket! Whilst Linus's world seems about to
end, you as Snoopy the world's
favourite beagle set out to find the
blanket...but it's not that easy!
Here is a full-blown adventure in 100%
graphic form, like you've never played
before! This game features superb
cartoon-video simulation; you'll think
you're interacting with an animated
cartoon!
When you want Snoopy to do something,
just sit back and watch as the action is fully animated before your eyes!
© United Feature Syndicate Inc. 1989
Table of Contents