Jump to navigation
Jump to search
This is the first game in the Snowboard Kids series. For other games in the series see the Snowboard Kids category.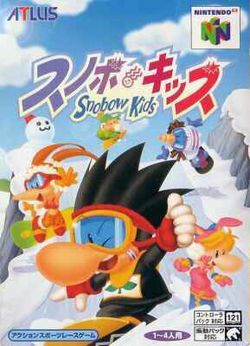 Neoseeker Related Pages
Links
Snowboard Kids, also Snobow Kids (スノボキッズ, sunobo kizzu) in Japan, is a snowboarding game for the Nintendo 64 developed by Racdym and published by Atlus. The game features 10-year-old children who snowboard down various courses, not necessarily involving snow. Many reviewers compared its style to that of the Mario Kart series.
The kids are arguing about their snowboarding skills. The debate escalates to the point where they decide to hold a snowboarding tournament to determine who is the best. One character, Shinobin, has no involvement whatsoever until it is unlocked by the player
Table of Contents