Jump to navigation
Jump to search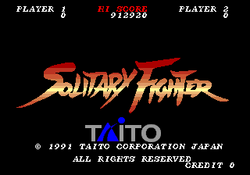 Japanese title
バイオレンスファイトII (Violence Fight II, original Japanese name),
ソリタリーファイター
Release date(s)
Genre(s)
One-on-one fighting
Players
1-2
Modes
Single player, Multiplayer
Solitary Fighter is a one-on-one fighting arcade game that had been released by Taito Corporation in 1991; it runs on the company's F2 hardware, and is the sequel to Violence Fight, which had been released two years earlier. It features the same storyline and characters as its precursor (except for the four original main fighters' younger brothers), but now allows the players to select Ron Max and Tony Won - and it also features knife-wielding prostitutes who will join in the fight against a human-controlled fighter, along with a new type of bonus round where the player must fight against a bear. The game's original name, Violence Fight II, is also visible in the background of the bonus rounds.
This is taken from the game's attract mode (if you wait through the sequence before inserting a coin):
VIOLENCE FIGHT:
IN THE EARLY PART OF 1950'S IN
THE USA, A GAME CALLED "VIOLENCE
FIGHT" WAS IN VOGUE AMONG MAFIA,
RECKLESS DRIVERS AND GENERAL
BUSINESSMEN.
THE "VIOLENCE FIGHT" WAS THE
GAME TO STRUGGLE FOR "NO. 1
QUARRELER" WITH FIGHTERS WHO
GATHERED FROM ALL PARTS
OF THE USA SPEAKING BOASTINGLY
OF THEIR STRENGTH.
AND OF COURSE A LOT OF WINNING
MONEY AS WELL AS THE HONOR WERE
GIVEN TO THE "WINNER".
HERE IN A DOWNTOWN IN L.A.,
A YOUNG FIGHTER "BAT" AND HIS
MANAGER "BLINKS" SEEK FOR THE
WINNING MONEY EAGERLY.
AS A MATTER OF FACT, CAN BAT
TAKE THE NO. 1 PLACE OF THE USA?
© Taito Corporation 1989, 1991
Table of Contents