Jump to navigation
Jump to search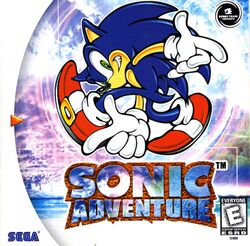 Neoseeker Related Pages
Links
This guide is for the original Dreamcast release. For the updated console and PC version, see Sonic Adventure DX: Director's Cut.
Sonic Adventure is a video game created by Sonic Team and released on December 23, 1998 in Japan by Sega for the Sega Dreamcast. One of its development titles was Sonic RPG, although the final game was an adventure game not a standard RPG. The final updated edition, known as Sonic Adventure International, was released on September 9, 1999 in North America, October 14, 1999 in Japan and Europe, October 18, 1999 in Belgium, the Netherlands, and Luxembourg, and December 3, 1999 in Australia. It has sold over 1 million copies worldwide making it the top selling Dreamcast game of all time.
A port of the game based on the 2004 Windows version of Sonic Adventure DX: Director's Cut was released for PlayStation 3 and Xbox 360 in 2010.
Table of Contents