Jump to navigation
Jump to search
The PlayStation 3 features online capabilities, such as a buddy list, messaging, voice chat, online multiplayer gaming, and an online store from which full games and game add-ons can be purchased, and game trailers, movie trailers, playable demos, and wallpapers for the XMB can be downloaded for free.
In addition to video games on Blu-ray Disc and games downloaded from the PlayStation Store, the PlayStation 3 can play Blu-ray Disc movies, and movies and music files both stored internally or from an external source such as CD, CD-R,CD-RW, DVD-R, or a USB device. All PlayStation 3 models are capable of playing PS1 games, but only some original models can play PS2 games.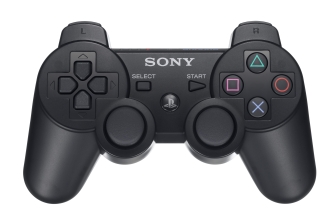 SIXAXIS
[
edit
]
Upon release, the PlayStation 3 used a controller named SIXAXIS. An evolution of the DualShock 2, the SIXAXIS controller added a central "Home" button and a tilt sensor to the design. The rumble function of the DualShock 2 was omitted from the SIXAXIS's design.
A year after the PlayStation 3's release in Japan, Sony introduced the DualShock 3 controller. This controller has an exterior design nearly identical to that of the SIXAXIS, but is noticeably heavier. The DualShock 3 retains all the functions of the SIXAXIS, but adds rumble feedback. Sony has stopped production of the SIXAXIS controller, which will no longer be available after supplies sell out.