Jump to navigation
Jump to search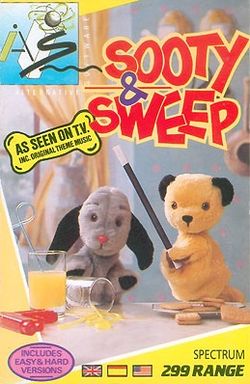 Sooty and Sweep is a platform game that had been developed by Enigma Variations for Alternative Software and released on the Sinclair ZX Spectrum, Amstrad CPC and Commodore 64 in 1989. It is based on the Thames Television series The Sooty Show, which ran for the entirety of their 24 years. It was redeveloped by PeakStar Software for the Commodore Amiga in Thames' final year (1992).
This is from the back of the cassette's, or disk's in the case of the Commodore Amiga's version, inlay card, the front of which is shown in the image to the right; it is not based on any episode of the show:
There's always trouble when Matthew goes out. This time he has left
Sooty in charge until he returns. Unfortunately Sweep has been up to
his old tricks and not only left his dirty old bones all over the
house but has left the door to the garden open and all the creepy
crawlies have got into the house.

Sooty and Sweep will be in big trouble if they don't clear up all the
bones by the time Matthew gets back.

Luckily Sooty has his magic wand out and Sweep his water pistol (in
the two player game). They decide to find all the old bones and ask
Soo to help collect them. As Sooty and Sweep collect the bones they
give them to Soo who puts them in the basket. Some of the bones have
been left in the most awkward places and Sooty and Sweep must be very careful
when they try to get them.

The creepy crawlies that are in the house will try to catch Sooty and
Sweep. They can be avoided by jumping over them or stunning them with
either Sooty's magic wand or Sweep's water pistol.
© Thames Television PLC 1989
Table of Contents