Jump to navigation
Jump to search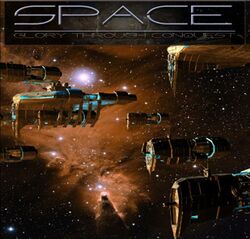 Space - Glory through Conquest (commonly referred to simply as Space or S:GTC) is a web browser MMOG. The game is set in a science fiction universe where each player controls their own alien empire and fight over the control of a galaxy. Space was initially developed by ColdFireStudios LLC and then was bought out by a player group in 2008 called Zero Sum Games.
Table of Contents
Each galaxy contains 3,000 systems, each system has a randomised amount of land, ore and habitability (with the exceptions of home-systems, which all have the same amount of land (1200) and ore (99%) and a 100% habitability match with the players race). A system's habitability is a rating that determines how well suited the planet is for a players race. The lower the habitability rating the more expensive colonization and construction will be. Habitability can be increased over time up to 100% suitable by building a number of bioformers in the system. Once a system has been claimed or conquered the player can build structures on the available land to further boost his economy, or increase the defensive strength of the system.
Space allows the user to pick one of 10 different alien species. Each has a unique set of bonuses such as faster ships or greater population growth, as well as a unique ship type that will grant special bonuses or abilities to a number of ships in the fleets they are part of.
Style

Expansionist, Militaristic
Skill Level

Easy at start, medium/hard as game progresses
Overview

Rapid population growth and elevated production technology at start. The faster growth helps during the competition to colonise other planets. No distinct military advantage other than cheap missile research. Ship capture is marginally useful only when done in large quantities during battle.
Gorgoth
[
edit
]
Style

Expansionist, Militaristic, Offensive
Skill Level

Hard at start, easier as game progresses
Overview

Starts with weakest economy of all species. Produces the most destructive ships in the game, making fleet warfare and planetary conquest easier and faster. Gorgoths also receive a 4% market discount.
Style

Expansionist, Militaristic, Offensive.
Skill Level

Medium/Easy
Overview

Mediocre economic techs at game start. However, Ji receive a major discount to colonization costs and faster (2x) bioforming as compared to other species. Faster bioforming equates to a quicker economic growth. Ji benefit most from a concentration on population growth early in the game. The military bonus is relatively small but is efficient in allocating damage to enemy ships.
Style

Militaristic, Builder, Defensive
Skill Level

Very hard, medium as game progresses
Overview

Weak starting economy. Large difficulty in habitats that are generally poor, leading to high colonisation costs. A strong economic strategy is needed to play Kreel successfully. Ships have a superb advantage militarily by always firing first. This advantage is also imparted to alliance members. The military advantages extend to the minefields, making assaults on a heavily mined Kreel planets extremely difficult.
Style

Expansionist, Militaristic, Guerrilla.
Skill Level

very hard to start with, medium difficulty as the game progresses.
Overview

Weak starting economy. Oomari have two early hardships to overcome, bad habs and atrocious population growth. The Oomari advantage is most sharply evident on the strategic scale. Oomari and their allies can move from planet to planet in two ticks, allowing the alliance to expand 33% faster than an alliance without an Oomari. On the tactical level, Oomari ships have the potential to be very evasive in combat, but this advantage is easily neutralised by good enemy sensors, and further eroded as rapidly as the oomari ships take damage. For the evasiveness to be truly effective, the Oomari player has to make huge sacrifices in other areas of ship-design, which is extremely risky. Whether on the defense or offense, it is the Oomari who gets to choose when and where to fight, and intercepting an Oomari fleet is very difficult.
Shy'dow
[
edit
]
Style

Expansionist, Militaristic
Skill Level

Easy
Overview

Strong starting economy, and cheap ore research plus bonus to ore-mining and reduced ore-depletion-rates ensures Shy'dow will always have a strong economic advantage. This is combined with the second fastest population growth-rate in the game (after Drall). Furthermore, Shy'dow ships are cheaper than most (discount to stealth, and engines), meaning you can build more, and build 'em faster. Also, with unique coverage, Shy'dow ships take less hull damage (10% less damage), making them rather durable. Lastly, you want to go to war, because you will earn massive amounts of salvage from the ships you kill, and each successful battle will allow you to significantly expand your fleet. Shy'dow have a weakness, I just don't know what it is. Seriously: Shy'dow have no inherent military advantages, and few species have good hab planets for them to consume.
Style

Builder, Expansionist, Flexible
Skill Level

Medium
Overview

Sirnef have no military or economic advantages, and have an atrocious population growth rate. They have an average starting economy, but it is very difficult to develop the economy because of the slow population growth rate. The strength of the Sirnef is derived from the fact that just about anything is good hab for Sirnef, and they have fantastically efficient research capabilities. It takes discipline and forethought to play Sirnef. The cheap research is not a universal advantage, it is best exploited if you focus on specific topics (economic or military) to specialise in. Also, the good habs all round means your best chance at success is rapid expansion, which requires a very disciplined and well-managed population growth strategy, which has to be maintained throughout the game. A secondary weakness is a player perception that Sirnef are useless to an alliance, which is not the case. An active alliance and a generous Sirnef player can make an excellent planet-swapping combination, with no-one having to colonise bad habs. A sirnef can accept the worst planets other players have to throw away and it will be good hab for him, while at the same time having few reservations about giving away 80 hab planets (or better) because of the sheer wealth of good habs available to the Sirnef player.
Style

Builder, Expansionist
Skill Level

Medium to Easy
Overview

Toags have a medium strength economy to start with, bolstered by a superb credit income. This makes them a fast expanding player early on, and with the unique later on a Toag will have the fastest developing colonies in the game, and nothing holding them back from rapid expansion. Toag ships have cheap sensors, but otherwise no military bonuses. Most species are good or medium hab for Toags, giving them lots of options for rapid expansion.
Style

Expansionist, Militaristic, Flexible
Skill Level

Medium to Hard
Overview

Turians have the second worst economy at game start (Gorgoth are the worst). However, they have good habs all-round, and are the second best researchers in the game (after Sirnef). Turian ships are the most durable ships in the game due to their massive shielding. If you can sustain the population growth, Turians can expand at a prodigious rate through just about any species. On the defensive, a well-shielded Turian planet can hold up huge fleets for many ticks, giving the Turian player and his alliance time to rebuild or re-organise.
Style

Builder, Militaristic
Skill Level

Easy
Overview

Zeebs have one of the strongest economies from the start of the game, and can build ships faster than any other species. This makes them a powerhouse in the early stages of the game, because they can rapidly convert their economic advantage into military strength. A good start to the game can ensure the Zeeb remains a powerhouse throughout. On the defensive, a Zeeb can recover faster than any other player, rapidly laying gown space-stations and quickly rebuilding lost ships. Another advantage is that a zeeb with good research can convert that tech advantage into real ships faster than any other player.
Research
[
edit
]
Research also plays a big part in a successful empire. There are two main groups of technologies to research - economic and ship based. Generally speaking, economic technologies increase the output of your industry, giving you more recourses to play with, and also reduce the cost and upkeep of your ships. Ship based technologies increase the "power" of each slot you allocate, so adding one beam slot at level 10 will give the ship considerably more firepower than simply spending two slots on level 1 beam weapons.
Additionally, the relative difference between combatants' weapons and shield technology levels determines how much of the damage is absorbed by a ship's shields and how much passes directly to its hull. Some weapons, like missiles, have a "natural" shield penetration rate of 50%, but against an opponent whose shield technology is higher than the missile technology of the attacker, this can be reduced, or even completely eliminated, depending on the technology gap. On the other hand, against an opponent with a much lower shield technology a lot higher percentage of the damage is applied to the hull directly.
Ship Design
[
edit
]
Ship design plays a major part of the game: Each ship class has a certain number of "slots" available, players can freely choose how many slots to devote to various aspects of the ship such as hull, shield, engines, sensors, stealth and various weapon types. Through research bigger ship classes with more slots can be unlocked, though all ship classes offer certain bonuses to a fleet if enough ships of a particular class is present, so a mixed fleet is often preferable to a fleet based on a single ship design.