Jump to navigation
Jump to search
Space Quest III is the fifth Sierra title to utilize the Sierra Creative Interpreter (SCI Version 0.000.453) engine used in other Sierra games (e.g. King's Quest IV and Leisure Suit Larry 2). Although the game is a classic 2D adventure, a sense of 3D is achieved by clever layouts and beautiful graphics. Apart from walking, your every action, from looking at something to killing an evil bloodthirsty robot is taken care of by typing in an appropriate command on the keyboard. The major change from the previous Space Quest games is that the game will pause to wait for the necessary input of the command, and utilizes a floating command box, as opposed to the command line always seen in Space Quest I and Space Quest II. According to Space Quest III Manual, SCI understands the following commands:
LOOK
DROP
EXAMINE
USE
CLIMB
GET
READ
TALK
HIT
PICK UP
PLAY
KICK
PUNCH
PUSH
PULL
MOVE
OPEN
CLOSE
JUMP
SIT
STAND
GIVE
PUT ON
TAKE
TAKE OFF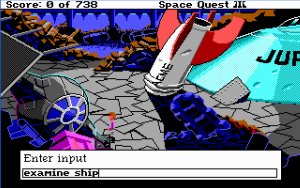 In order to communicate the commands with ease, this guide will highlight the necessary command in italics, like this: take keycard. Furthermore, Space Quest III also contains a few scenes that operate on the use of "hot keys," so you have to press numbers (and sometimes letters) to operate in-game computers. Similarly, the commands will be in italics, but they will also feature the hotkey in question. For example: Turn on your engines, 1.
Since Space Quest III (like other Sierra On-Line Adventures) utilizes a point system, the walkthrough will provide every action necessary for scoring the largest amount of points. The point value per action will appear in square brackets immediately following the description of your action.
Although appendices contain some curious material regarding the gems of the Space Quest III experience, the full enjoyment of the game comes from the slow paced exploration. In other words, use look around as much as possible, and if you can, ditch this guide. Oftentimes (as shown in Appendix A) knowing the solution can diminish the experience, stripping it of the whimsical complexity of the game's design.

Last but not least, it should be mentioned that some find Sierra adventures to be exceptionally frustrating because of high risk of death. Since this game was made before "Try Again" feature was implemented, your only choices are Restore, Restart, and Quit. While the guide does not explicitly tells you to save your game, it is imperative that you save your progress often. Even the most die-hard Space Quest fans will admit that beating any of the Space Quest games without saving at least once is not an easy trial to endure (although not impossible).