Jump to navigation
Jump to search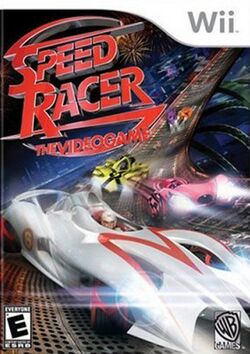 Speed Racer: The Videogame is a racing game, developed by Sidhe Interactive, and Virtuos in the case of the Nintendo DS version, for Warner Bros. Interactive Entertainment and initially released on the Nintendo Wii and Nintendo DS on May 6, 2008, then later also released on the Sony PlayStation 2 on September 16 of the same year; it is based on Warner Bros.' own live-action movie of the same name (which is, itself, based on Tatsunoko Production and Yomiko Advertising's animated television series from 1967-1968, originally seen under the title Mach Go Go Go in Japan). The game is about the eponymous Speed Racer (his Japanese name: Gō Mifune) who races around the world with his mysterious friend Rex (nicknamed "Racer X"), his girlfriend Trixie, and his family who owns a racing company - and its most unique feature is the "Car-fu", as in using futuristic cars for physical combat that makes it different from every other racing game ever made (such as Nintendo's F-Zero series).
This is taken from the back of the game's box, the front of which is displayed in the image to the right:
Get behind the driver's seat with this Speed Racer based
on the Wachowski Brothers film with its garage of combat-
ready rides and see how you fare in "Car-fu style" action.
Take on the role of the characters from the film, getting
behind the wheels of each character's signature vehicles
to experience firsthand the film's high adrenaline,
combative racing style. A live-action family adventure,
Speed Racer follows the young racecar driver Speed in his
quest for glory on and off the track in his thundering Mach
5.
© Warner Bros. Interactive Entertainment 2008
Table of Contents