Jump to navigation
Jump to search
Enter the research station on the roof of a building in Hell's Kitchen to start this mission. Press

in front of the screen and hold

to begin Snapping Up Smog, for which you'll be rewarded with two Research Tokens. Like Crime Tokens, Backpack Tokens, and Landmark Tokens, Research Tokens can be used to upgrade Spider-Man's gear and craft new suits.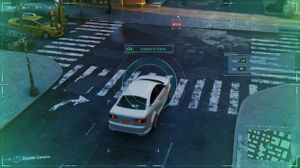 The objective of this mission is to swing directly into clouds of smog so that Spider-Man can collect samples of the contaminants within them and subsequently trace their source. The clouds can be seen on the mini-map in the corner of the screen, with some clouds being higher up than others. Swing through eight clouds, and then take photos of the two cars and faulty smokestack marked on the map.
There are many more research stations around the city, each with unique objectives. Make sure to clear some of them between story missions for tokens.