From StrategyWiki, the video game walkthrough and strategy guide wiki
The Cell Creator is the most basic of Spore's creators, and is the first one you'll encounter. When you first start a game, your cell will be automatically generated, but once you accumulate enough DNA points, you can mate and enter the cell editor to customise your cell.
Controls
[
edit
]
You can also select "vertebrae" from your cell's "spine" and treat them in the same way as body parts to change the appearance of your cell's body.
Build Mode
[
edit
]
The first thing to do is to design your cell, by adding body parts to it in Build Mode. Each body part costs DNA Points (

), and gives your cell specific abilities.
If you're designing a peaceful, herbivorous cell, you may want to spend more DNA Points on making it faster, while if you're designing a carnivorous cell, you could spend more DNA Points on bettering its attacks. You decide!
The only requirement for a cell is that it has a mouth — there is no strict need for it to have eyes or a method of propulsion. If you choose, however, to have a cell without eyes, your visibility of the tidepool will be severely restricted.
Statistics
[
edit
]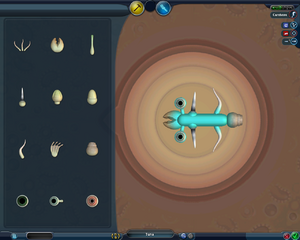 You can keep track of what statistics your cell has from the display in the top-right of the screen. From the top:
Complexity Meter: This keeps track of how complex your cell is. The more body parts your cell has, the more complex it is. Cells cannot be too complex (indicated by the Complexity Meter going red).
Diet:
Abilities:
Attack:

Attack & Break, given by Spike; useful for breaking open meteor fragments to get more body parts. You can only have 1 .
Body parts
[
edit
]
Level 1
Level 2
Level 3
Mouths
Name
Filter Mouth
Jaw
Proboscis
Image
Cost
15
15
25
Statistics
Herbivore
Carnivore
Omnivore
Attack
Name
Spike
Poison
Electric
Image
Cost
10
15
25
Statistics
Attack & Break
Spit Poison
Electrocute
Movement
Name
Flagella
Cilia
Jet
Image
Cost
15
15
25
Statistics
Speed
Speed + Fast Turns
Speed × 2
Eyes
Name
Beady Eye
Stalk Eye
Button Eye
Image
Cost
5
Statistics
Sight
Paint Mode
[
edit
]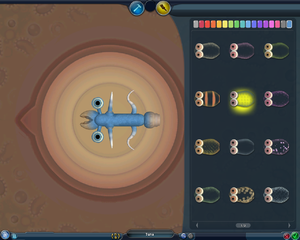 Once you've completed designing your cell, you can click on the button at the top to switch to Paint Mode, in which you choose a pattern and colour for your cell. The patterns are listed on the right, with the colours available above them.
It may take a few seconds for a pattern/colour combination to be applied to your cell, so be patient. Whatever colour or pattern you choose has no effect on how well your cell fares in the Cell Stage.