Jump to navigation
Jump to search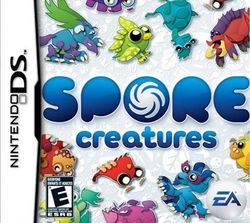 For the Windows and Mac OS game, see Spore Creature Creator.
Spore Creatures is the Nintendo DS spin-off of Spore, developed by Foundation 9. The player controls and evolves a creature of their own creation.
Gameplay
[
edit
]
The game focuses on the Creature phase of the larger game, with elements of Nintendogs and Drawn to Life. Unlike the characters in Spore, creatures are completely 2D.
Spore Creatures is a more story-based game; the player controls a creature kidnapped by a UFO and forced to survive in a strange island over the course of 12 levels, at which point the game ends. The creature is created and modified in an editor, using points earned to give the creature different body parts and skills. The player is given 20 points at the start with which to build their initial creature.
The game focuses on survival, which includes finding food and eventually a mate, with mini-games such as singing and dancing for friend-making. A large part of the game involves collecting items, allowing players to earn 60 badges based on game moments and actions. The players can also perform side quests and play mini-games to unlock skills and 280 hidden creature parts, which are given to the player by other friendly creatures, akin to Animal Crossing. Some parts grant "Bio-Powers", such as a quick healing ability.
Multiplayer
[
edit
]
Spore Creatures allows the player to save ten different creations, including those from friends over a local, peer-to-peer connection. Players can have their creatures interact via the Nintendo Wi-Fi Connection; Spore Creatures is one of the few Nintendo DS or Wii games to allow a player to opt out of needing to input Friend Codes.
Table of Contents