Jump to navigation
Jump to search
This is the first game in the StarTropics series. For other games in the series see the StarTropics category.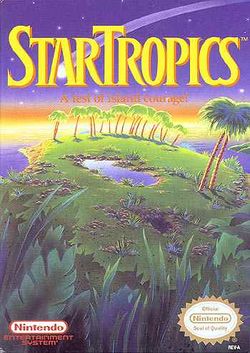 StarTropics is an action-adventure RPG created by Nintendo IRD and published by Nintendo for the NES. It was released in North America on December 1, 1990 and Europe in August 20, 1992. Despite being re-released for the Virtual Console twice, StarTropics has not debuted in Japan. The game is followed by one sequel, Zoda's Revenge: StarTropics II.
In the game, you star as Mike Jones, baseball aficionado and nephew to archaeologist Dr. Jones. Mike decides to visit his uncle on C-Island to see how his work is going. As he searches the island and accepts the warm welcome of the natives, he learns from the chief of a village named Coralcola that your uncle has been kidnapped. Realizing that there may be more to it than just a simple kidnapping, Mike decides to not only rescue his uncle but figure out the mystery behind it using clues that Dr. Jones left behind.
Table of Contents