Jump to navigation
Jump to search

The Meteor planet levels are fairly straightforward, the only special level features are roads (they also appear in Eladard), which don't really affect gameplay in any way, but can be handy to orientate yourself inside the level area.
Planet Surface
[
edit
]
Targets : 1 switch
Target Location : Inside Boss
Enemies : Land Fighter, Turret Generator
Bosses : Queen Dragoon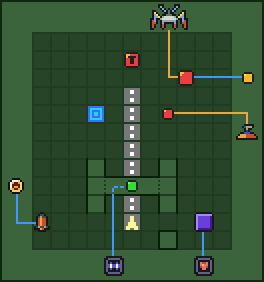 Once you start you will automatically deploy into Land Mode. To open the entrance to the base you will have to defeat the Queen Dragoon boss to reveal the switch. Queen Dragoon will be walking in the area just in front of where you start. First walk under the bridge you can see at the beginning to acquire a Twin Blaster Item, this will make defeating Queen Dragoon easier, then keep walking up the map to face the boss.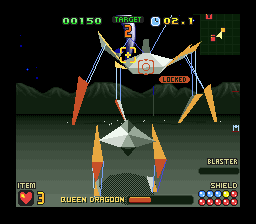 Queen Dragoon will move continuously from side to side, it will fire exploding missiles if you are some distance away, and shoot normal Blaster beams if you approach it. The missiles will be hard to avoid once they detonate in the ground due to their shockwave, but they can be destroyed before they reach you with Blaster fire. The quickest way to defeat Queen Dragoon without taking damage is just to keep shooting it from a distance while walking towards it in a straight line, that way you will also destroy any missiles it fires at you.
Once Queen Dragoon is destroyed, the switch will fall from inside it. Step on the switch to open the base entrance.
Inside the Base
[
edit
]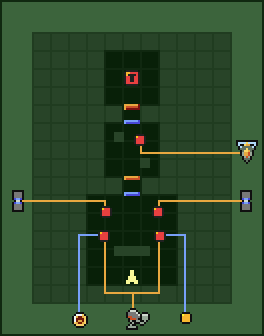 Enemies : Carrier Robot, Column Cannon, Cocoon
Planet Surface
[
edit
]
Targets :
Target Location :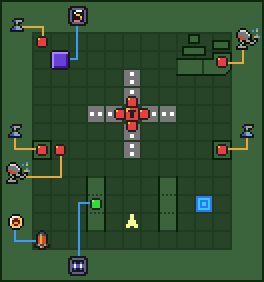 Inside the Base
[
edit
]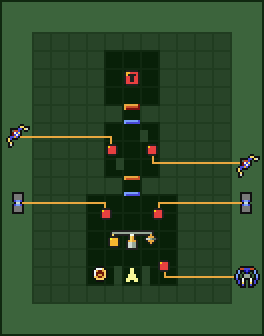 Planet Surface
[
edit
]
Targets :
Target Location :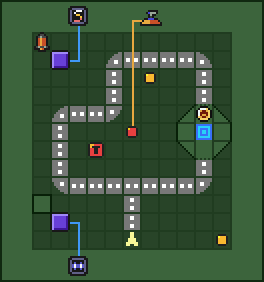 Inside the Base
[
edit
]