Jump to navigation
Jump to search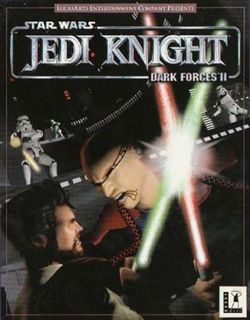 Star Wars Jedi Knight: Dark Forces II is a FPS developed and published by LucasArts exclusively for Windows in 1997. It was later released via Steam and Direct2Drive in 2009.
Since the destruction of the second Death Star, the Rebel Alliance has begun the difficult process of building the New Republic.

Seizing the opportunity for control of the galaxy, new rival armies arise. The most dangerous of these are the Dark Jedi. Their leader, Jerec, seeks the legendary Valley of the Jedi.

Within this lost battleground he will find untold power to destroy peace and justice in the galaxy...
The second installment of the Jedi Knight/Dark Forces series, Dark Forces II was released by LucasArts in 1997. The game was originally created as a 2-disk series and is compatible with Windows 95 and 98. More recently, it has been made available via Steam (beginning in September of 2009) or by mounting a torrent file to a virtual CD drive. It is a 3D first-person shooter, although it can be played in third person as well. Like the other installments in the series, it is an action/adventure that features progressive force power development. Each level, with the exception of the battle levels, contains secret areas that can be discovered for extra power stars that are used to increase the rank of force powers. The game features a variety of resolutions, 3D acceleration, high-quality sounds, a phenomenal musical score, and live-action cutscenes and cinematics. It also features the ability to choose to become either a light Jedi or a dark Jedi.
Table of Contents