Jump to navigation
Jump to search
This is the first game in the Star Wars: X-Wing series. For other games in the series see the Star Wars: X-Wing category.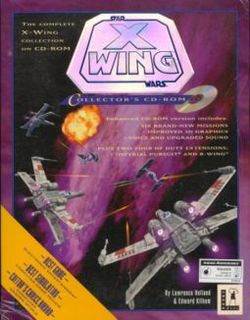 Star Wars: X-Wing is a 1993 flight simulation which was the first Star Wars computer game released in the 1990s and the starting point for the huge range of LucasArts releases that would follow.
It is a period of Civil War.
Using fear and intimidation,
the Empire seeks to impose a
New Order on the galaxy. Only
the Rebel Alliance stands in
the way of their evil plans.

Not yet willing to confront the
Empire directly, the Rebels are
marshalling their forces in
secrecy. Even now a group of
their prized Calamari Cruisers is
being intercepted by a squadron
of Imperial Star Destroyers.

The Rebel Fleet is outnumbered
but, they have a surprise...
the X-Wing Starfighter!
Gameplay
[
edit
]
It's a 3D space combat simulator that places you in the role of a rookie Rebel pilot, allowing you to fly X-Wing, Y-Wing and A-Wing craft from the movies and eventually ending with the attack on the Death Star itself.
Praised for its realistic 3D combat, the game has much more emphasis on situational awareness and controlling your ship's functions than its main rival at the time, the Wing Commander series of games.
Table of Contents
Historical Combat

Tour of Duty IV - Imperial Pursuit