Jump to navigation
Jump to search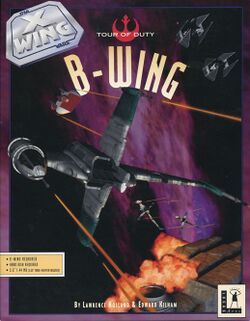 Star Wars: X-Wing - B-Wing is the second of two expansion packs for the 1993 flight simulation Star Wars: X-Wing, adding a fifth Tour of Duty, B-Wing, as well as Historical Combat missions for that starfighter and bonus missions. Subsequent releases of the original game include both expansion packs.
Tour of Duty V
B-Wing

After the Battle of Yavin, the
Alliance Fleet had no choice
but to abandon its main base.
Pursued by Imperial forces,
the Alliance survived
treachery and starvation.

Now the search for a new base
continues as does the Emperor
and Lord Vader's desire to
destroy the Rebellion.

But the Alliance prepares to
unleash a new weapon...
the B-wing Starfighter!

Table of Contents
Historical Combat

Tour of Duty IV - Imperial Pursuit