Jump to navigation
Jump to search
Steam is a content-delivery system designed and run by Valve Corporation. Although initially only used for Valve's games, it now has over 4900 games from Valve and from third parties. Similarly, it was originally only a content-delivery system, but now has instant messaging with friends (and in-game support for this), community pages, support for game media such as preview movies, and inbuilt support for modding tools such as Hammer.
Steam Community
[
edit
]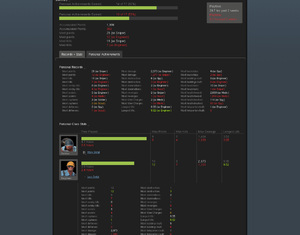 On September 12, 2007, Valve released the Steam Community; a new system allowing gamers to have their own page in the community and network socially with other gamers. The system allows gamers to have friends, belong to groups, and compare their game statistics to others'; recent Valve games such as those in The Orange Box have integrated statistics systems which detail many aspects of a player's scoring online. As well as being able to view statistics through Steam, people can also view people's profiles and statistics through a web browser, by going to steamcommunity.com.
The Steam Community update also introduced new features to the instant messaging system in Steam, including voice and avatar support, as well as more useful notification of a contact's game status and support for multi-user chats.