Jump to navigation
Jump to search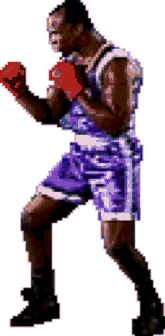 Click here for more information about Balrog's other fighting game appearances.
Balrog was a supporting character in the live action film. His story and character was radically changed from Street Fighter II. Instead of being a disgraced boxer by his own actions, being paid by Bison to work for him, he is a disgraced boxer because of Bison. Also, he's calmer and less violent than his video-game counterpart and is a cameraman. In the movie and games, Balrog was played by Grand L. Bush.
Balrog was a boxing champion, whose career was ruined by Bison. Working as Chun-Li's cameraman for GNT. He, along with Chun-Li and cameraman Honda, tried to kill the dictator. The three are captured by Bison, but eventually break free and help Col. Guile battle Bison's forces. After Bison's defeat, Balrog returns to boxing, eventually becoming champion. In Street Fighter: Real Battle On Film, the video game based off the film, Balrog quickly became both the heavy-weight and open-weight boxing champion due to his powerful punches. When challengers became hard to find, Balrog returned as Chun-Li's cameraman.

| Name | | Input |
| --- | --- | --- |
| Head Bomber | close, or + | |
| Shoulder Throw | close, or + | |
| Throw Reversal | during throw + | |
| Slammaster | during throw reversal + | |
| Dash Straight | + | |
| Dash Upper | + | |
| Turn Punch | Hold | and release |
| Charge Upper | Hold | and release |
| Buffalo Headbutt | + | |
| Reflect Glove | + | |
| Shadow Upper | + | |
| One-Two Jabs | | |
| Ground One-Two Jabs | + | |
| Buffalo Headbutt | reversal + | |
| Dash Upper | reversal + | |
| Comeback: Jab Punch Frenzy | low health Hold , | and release |
| BLUE: Crazy Buffalo | + | |
| RED: Dash Ground One-Two | + | |
| Regeneration | Hold + | and release |

| Name | | Input |
| --- | --- | --- |
| Head Bomber | close, or + | or |
| (EX) Dash Straight | + | |
| Dash Upper | + | |
| Dash Ground Straight | + | |
| Dash Ground Upper | + | |
| Turn Punch | Hold or | and release. |
| (EX) Buffalo Headbutt | + | |
| Crazy Buffalo | + | or (hold or release ) |