Jump to navigation
Jump to search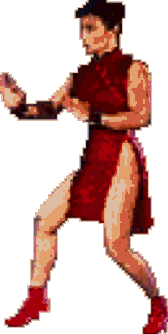 Click here for more information about Chun-Li's other fighting game appearances.
Chun-Li is either another main character or a strong secondary character in the film. In this continuity, she's a reporter for Global News Television (GNT). For the most part, however, her storyline from Street Fighter II was used. She still sought revenge against General Bison for killing her father. She was given the full name Chun-Li Xiang (or Zang in Street Fighter: Real Battle On Film)
In the arcade version of the game, Chun-Li could throw her spiked bracelets as a special attack. These changes to Chun-Li's story and attacks are often poked fun at by Capcom, especially in Street Fighter III: 3rd Strike (her win quotes state that she is "not" a reporter and would "not" throw her bracelets away) and Mega Man 9 (where an anchorwoman who looks exactly like Chun-Li is seen in the opening). In the movie and games, Chun-Li was played by Ming-Na Wen.
Chun-Li Xiang is GNT's international correspondent covering the "Crisis in Shadowloo" between the A.N. forces led by Col. Guile and General Bison and his forces. She uses this opportunity to get revenge on Bison for killing her father, for which she has trained hard in preparation. With the help of her production crew Edmond Honda and Balrog, she attempts to blow up Bison but the gambit fails and they are captured. Chun-Li, in bracelet handcuffs, was brought into Bison's room and the two talked about her father's death. Chun-Li then broke the handcuffs and attacked Bison. She almost defeated him but he escaped.
Chun-Li and her crew eventually teamed up with Guile to help defeat Bison's soldiers. After Bison's defeat, Chun-Li asked Guile (they met several times at the beginning of the film) for an "interview". In the arcade version, Chun-Li went to the United States and became a medical resident in a hospital in Chicago (a reference to actress Ming-Na Wen being ER). In the console version, she continued to be a reporter and did get an interview with Guile.

| Name | | Input |
| --- | --- | --- |
| Koshuu Tou | close, or + | or |
| Ryuusei Raku | close, or + | or |
| Throw Reversal | during throw + | |
| Slammaster | during throw reversal + | |
| Kouhou Kaiten Kyaku | Hold | and release |
| Taka Tsume Kyaku | + | |
| Kikouken | + | |
| Spinning Bird Kick | + | |
| Kuuchuu Spinning Bird Kick | + | |
| Tenshou Kyaku | + | |
| Hyakuretsu Kyaku | | |
| Hishou Shuu | Hold + | then + release , |
| Bracelet Throw | Hold , | and release |
| High Kick | reversal + | |
| Low Kick Knockdown | reversal + | |
| Comeback: Bird Kikouken | + | |
| BLUE: Senretsu Kyaku | + | |
| RED: Kikou Hou'ou Ken | + | |
| Regeneration | Hold + | and release |

| Name | | Input |
| --- | --- | --- |
| Sankaku Tobi | Jump against a wall, | press in opposite direction |
| Koshuu Tou | close, or + | or |
| Ryuusei Raku | close, or + | or |
| Kouhou Kaiten Kyaku | + | |
| Kaku Kyaku Raku | + | |
| Yousou Kyaku | + | |
| (EX) Kikouken | + | |
| (EX) Spinning Bird Kick | + | |
| Kuuchuu Spinning Bird Kick | + | |
| Tenshou Kyaku | + | |
| Hyakuretsu Kyaku | | |
| Senretsu Kyaku | + | |