Jump to navigation
Jump to search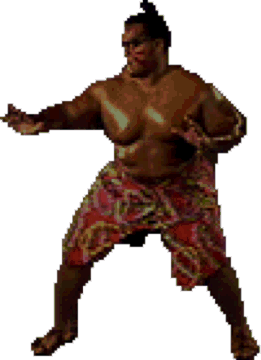 Click here for more information about E. Honda's other fighting game appearances.
E. Honda was a supporting character in the live action film. Usually seen with Chun-Li and Balrog, Honda is portrayed as an ex-sumo champion, who wanted revenge against Bison. He seems to also be gifted with technology as he is a news crew technician for Global News Television (GNT). In the movie and games, E. Honda was played by Peter "Navy" Tuiasosopo.
Edmond Honda was once a proud sumo champion, whose career was ruined by Bison. Working as Chun-Li's news crew technician for GNT. Honda, along with Chun-Li and cameraman Balrog, tried to kill the dictator. The three are captured by Bison, but eventually break free and help Col. Guile battle Bison's forces. Honda would do battle with Zangief, Bison's personal bodyguard. After Bison's defeat, Honda returns to sumo wrestling. In Street Fighter: Real Battle On Film, the video game based off the film, Honda and Zangief become friends and fight for sport. The two destroyed five dojos.

| Name | | Input |
| --- | --- | --- |
| Tawara Nage | close, or+ | |
| Hiza Geri | close, or+ | |
| Throw Reversal | during throw + | |
| Slammaster | during throw reversal + | |
| Hyakuretsu Harite | | |
| Super Zutsuki | + | |
| Super Hyakkan Otoshi | + | |
| High Super Hyakkan Otoshi | Hold + | then + release (direct) |
| Ooichou Nage | close, + | |
| Triple Ooichou Nage | close, + | |
| Super Shiko | Hold | and release |
| Dash Hyakuretsu Harite | reversal + | |
| High Roundhouse | reversal + | |
| Comeback: Shadow Zutsuki | + | |
| BLUE: Oni Musou | + | |
| RED: Super Hyakuretsu Harite | + | |
| Regeneration | Hold + | and release |

| Name | | Input |
| --- | --- | --- |
| Tawara Nage | close, or+ | |
| Saba Ori | close, or+ | |
| Hiza Geri | close, or+ | or |
| Harai Geri | or+ | |
| Flying Sumo Press | + | |
| Hyakuretsu Harite | | |
| (EX) Super Zutsuki | + | |
| Super Hyakkan Otoshi | + | |
| (EX) Ooichou Nage | close, + | |
| Oni Musou | + | |