Jump to navigation
Jump to search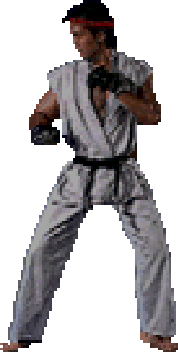 Click here for more information about Ryu's other fighting game appearances.
Ryu is a con-man along with Ken in the film. The two act as strong supporting, buddy-comedy like characters in the film instead of the main characters. While Ryu is taught by Shen Long (Gouken) to fight, he acts very little like the character that inspired him. The Ryu from the game always wants to improve his fighting abilities and is nice to a fault but is not a push over. Ryu is portrayed here as good-hearted but slightly submissive to Ken, who begrudgingly goes along with his hair-brained schemes.
Like Ken, the moves added for him in Street Fighter: The Movie for the arcades accent the moves he already has and is not a big departure form the existing moves. In the movie and games, Ryu was played by Byron Mann.
Ryu Hoshi is a con man who with his partner Ken tired to tick weapons dealer Viktor Sagat into buying toy weapons. Sagat catches on to the scam and has Ryu face Vega. Col. Guile and his A.N. forces storm Sagat's hideout and arrests everybody before that match takes place. Guile discovers who he and Ken are and force them to help him infiltrate Bison's ranks.
Eventually their treachery is discovered by Bison and they are held prisoner. When Guile and his forces storm Bison's base, Ryu and Ken are freed. Ken wanted to leave, but Ryu believed it was worthwhile to help fight Bison. When Ken leaves, Ryu is confronted by Sagat and Vega, he is almost defeated but Ken arrives to even the odds. Ryu defeats Vega and he and Ken escape the crumbling temple. Afterwards, Ryu helps in the reconstruction of Shadowloo City. In the arcade version, he quits fighting to do this, on the console version Ryu eventually foes along with another one of Ken's schemes, but makes sure he doesn't go overboard.

| Name | | Input |
| --- | --- | --- |
| Seoi Nage | close, or + | or |
| Tomoe Nage | close, or + | or |
| Throw Reversal | during throw + | |
| Slammaster | during throw reversal + | |
| Hadouken | + | (direct) |
| Fire Hadouken | + | (direct) |
| Shoryuken | + | |
| Tatsumaki Senpuukyaku | + | |
| Kuuchuu Tatsumaki Senpuukyaku | + | |
| Shadow Tatsumaki Senpuukyaku | Hold , | and release |
| Shadow Short | Hold | and release |
| Shadow Roundhouse | Hold | and release |
| Dashing Roundhouse | reversal + | |
| Shoryuken | reversal + | |
| Comeback: Double Hadouken | low health Hold + | and release |
| BLUE: Shinkuu Hadouken | + | |
| RED: Shinkuu Midare Uchi | Hold +, | and release + |
| Regeneration | charge + | and release |

| Name | | Input |
| --- | --- | --- |
| Seoi Nage | close, or + | or |
| Tomoe Nage | close, or + | or |
| Mid-air uppercut | | |
| Sakotsu Wari | + | |
| Kyuubi Kudaki | + | |
| (EX) Hadouken | + | |
| Shakunetsu Hadouken | + | |
| (EX) Shoryuken | + | |
| (EX) Tatsumaki Senpuukyaku | + | |
| Kuuchuu Tatsumaki Senpuukyaku | + | |
| Shinkuu Hadouken | + | |