From StrategyWiki, the video game walkthrough and strategy guide wiki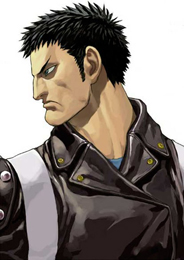 Ace is a secret government agent from an undisclosed nation who has the special ability to learn the techniques of his opponent after gathering battle data. He is asked by the Prime Minister of his country to gather information of a secret weapon being developed in an underground base.
Ace's moveset
[
edit
]
Ace starts off with only his command moves, throw and Surprise Blow. He can obtain more moves by purchasing them at the store in in Character Edit Mode. Passing challenges with Ace gives him access to more moves he can buy. He can buy all the available moves but is only allowed to be assigned seven total special moves and super comboes and one metor combo in his movelist. Also special moves with the same input can't be used at the same time.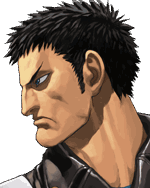 | Name | | Input |
| --- | --- | --- |
| Meishou Fumei | close | + |
| Meishou Fumei | close + | + |
| S.B. Trick Kick | | + |
| DARK Elbow | + | |
| Ryuubu | + | |
| Sliding Arrow | + | (must purchase from Set 1) |
| Tatsumaki Senpuu Kyaku | + | (must purchase from Set 1) |
| Justice Fist | + | (must purchase from Set 1) |
| Vaulting Kick | close + | (must purchase from Set 1) |
| Hyakuretsu Kyaku | | (must purchase from Set 1) |
| Final Punch | Hold or | and release (must purchase from Set 1) |
| Rolling Attack | + | (must purchase from Set 2) |
| Zenpou Tenshin | + | (must purchase from Set 2) |
| EX-plosive | + | (must purchase from Set 2) |
| Shoot Kick | close + | , +, + (must purchase from Set 2) |
| Cannosa no Kutsujoku | + | (reversal) (must purchase from Set 2) |
| Hagan-Syo | + | (must purchase from Set 2) |
| Hadouken | + | (must purchase from Set 3) |
| Air Drill Purrus | + | (must purchase from Set 3) |
| Hien Shuu | + | (must purchase from Set 3) |
| Spinning Piledriver | close + | (must purchase from Set 3) |
| Sonic Boom | + | (must purchase from Set 3) |
| Shoryuken | + | (must purchase from Set 4) |
| Somersault Kick | + | (must purchase from Set 4) |
| Geifu Danjin Souyso | + | + (must purchase from Set 4) |
| __Geifu Danjin Souyso cont. | + | + |
| ____Geifu Danjin Souyso cont. | + | |
| Junsui Suisyu | + | + (must purchase from Set 4) |
| Healing | + | ( must purchase from Set 1) |
| Fairy Gift | + | , ( then ) (must purchase from Set 1) |
| Raging Buffalo | + | (must purchase from Set 1) |
| Senretsu Kyaku | + | (must purchase from Set 2) |
| Triple Break | + | (must purchase from Set 2) |
| Double Somersault Kick | + | (must purchase from Set 2) |
| Giga Gladiator | + | (must purchase from Set 3) |
| Sho-Ran | + | (must purchase from Set 3) |
| Killer Bee Assault | + | (must purchase from Set 3) |
| Massive Missile | | (must purchase from Set 3) |
| Arayougi | + | (must purchase from Set 4) |
| __Chikara Tame | | hold after grabbing |
| Ground Tiger Cannon | + | (must purchase from Set 4) |
| Spin Side Shoot | + | (must purchase from Set 4) |
| METEO: Denjin Hadou Ken | + | hold to charge, and direction to speed charge (must purchase from Set 1) |
| METEO: Cosmic Final Atomic Buster | close + | (must purchase from Set 2) |
| METEO: Nekketsu Hadou Ken | + | (must purchase from Set 3) |
| METEO: Galaxy | + | (must purchase from Set 4) |
| METEO: __Galaxy cont. | + | |
| METEO: ___Galaxy cont. | + | |
| METEO: ____Galaxy cont. | + | |