Jump to navigation
Jump to search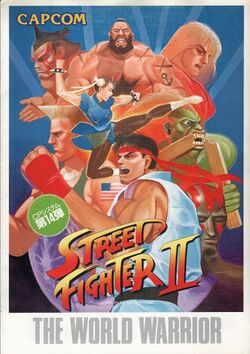 Street Fighter II (Street Fighter II: The World Warrior on the title screen) is a head-to-head fighting game produced by Capcom originally released as an arcade game. A sequel to Capcom's 1987 fighting game Street Fighter, Street Fighter II improved upon the many concepts introduced in the first game (including the use of command-based special moves and a six-button configuration), while offering players a selection of multiple playable characters, each with their own unique fighting style and special moves. Street Fighter II is credited for starting the fighting game boom during the 1990s. Its success led to the production of several updated versions, each offering additional features and characters over previous versions, as well as many home versions. Some of the home versions of the Street Fighter II games have sold over millions of copies, with the SNES port of the first Street Fighter II being Capcom's best-selling consumer game of all time as of 2008. In 1998, it was released to the PlayStation and Sega Saturn as a part of Street Fighter Collection 2.
Street Fighter II - The World Warrior is the first iteration of the Street Fighter II series, released on March 1991. The game featured all the basic features that would be carried over to subsequent Street Fighter II editions. The original game featured eight selectable characters, with Ryu and Ken being the only characters with identical moves. In the single-player tournament, the player faces against the other seven main characters, before proceeding to the final four opponents, which were non-selectable boss characters. In World Warrior, matches could go up to ten rounds if there were no clear winner before making the player lose by default (in Champion Edition and onward, this was reduced to four rounds). This version featured several glitches, such as Guile's infamous "invisible throw" and "Golden Stance".
The Street Fighter II games were followed by several sub-series of Street Fighter games and spinoffs which includes Street Fighter Alpha, Street Fighter EX, Street Fighter III, Super Puzzle Fighter II Turbo and Capcom's Vs. series (which combined Capcom's characters with properties from other companies such as Marvel, SNK, Tekken and Tatsunoko). Capcom released Street Fighter IV for the arcades in 2008.
Table of Contents
Character Select
[
edit
]