Jump to navigation
Jump to search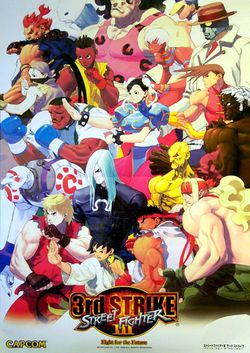 Street Fighter III: 3rd Strike (ストリートファイターIII 3rd STRIKE, Street Fighter III: 3rd Strike?) was the final of three versions of the Street Fighter III series. It expands the cast by four entirely new selectable fighters, and one returning veteran by popular demand, Chun-Li. Much like the Street Fighter Alpha series, the events third version take place immediately after those depicted in the second version, making this title a mini-sequel to the second.
3rd Strike was first release around the world for the Sega Dreamcast (following Capcom's compilation release of the first two versions, Street Fighter III: Double Impact). It was later released in Japan for the PlayStation 2. Outside of Japan, it was included for sale along with Hyper Street Fighter II in the Street Fighter Anniversary Collection for the PlayStation 2 and Xbox.
Chun-Li's play style changes quite a bit from the Street Fighter II and Street Fighter Alpha series, but she is still recognizably Chun-Li. The new cast members are Remy, a Frenchman who plays eerily like Guile, Makoto, a young and determined student of martial arts out to prove her worth as a fighter (much like a young Ryu), Q, a mysterious man in an iron mask, and Twelve., the product of an Illuminati genetic engineering lab.
Capcom mixes up some of the rules for the game a little more from the second version than it did between the first two versions – throws are changed to two button commands, similar to a change they made in Street Fighter Alpha 3; players are given the choice between two future computer controlled opponents in VS mode; and a very tough grading system has been implemented to indicate the level of player performance.
Online Edition
[
edit
]
This version of the game was released for PlayStation Network on August 23, 2011 and on Xbox Live Arcade on August 24, 2011. It features enhanced visual settings, GGPO-built online play and was ported by Iron Galaxy. The port has similar features to Final Fight: Double Impact, including visual filters, an optional remixed soundtrack by Simon Viklund and bonus content unlocked by completing in-game achievements. Other new modes include Tournament and Spectator modes, as well as Trial Modes that teach the game's fundamentals and combos, and the ability to share replays on YouTube.
Table of Contents