From StrategyWiki, the video game walkthrough and strategy guide wiki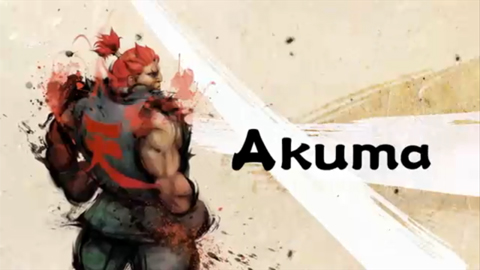 Click here for more information about Akuma's other fighting game appearances.
Akuma has used his martial arts to become something more than human, and definitely something more cruel. He treks the globe in search of warriors worthy to be his opponent. Having trained with his brother Gouken under Goutetsu, he learned a nameless assassination style as well as an incredibly powerful technique called Shun Goku Satsu. However, this death technique came with a price, putting the user in great danger. Akuma nonetheless mastered the Shun Goku Satsu by embracing the principle of Satsui no Hadou, or Surge of Murderous Intent, and as a result lost all compassion. With this new power Akuma killed his master and presumably destroyed his brother. He enters the new fighting tournament looking for another challenge.

Marks
Move Name
Commands
Notes
Goshoha
豪衝破
( +) +
Syuretto
朱裂刀
+ +
Zugaihasatsu
頭蓋破殺
+
Overhead
Tenmakujinkyaku
天魔空刃脚
+
Executed at apex of forward jump
★
Gohadoken
豪波動拳
+
★
Shakunetsu Hadoken
灼熱波動拳
+
★
Zanku Hadoken
斬空波動拳
+
★
Goshoryuken
豪昇龍拳
+
★
Tatsumaki Zankukyaku
竜巻斬空脚
+
★
Kuchu Tatsumaki Zankukyaku
空中竜巻斬空脚
+
★
Hyakkishu
百鬼襲
+
Hyakki Gozan
百鬼豪斬
(During Hyakkishuu) No input
★
Hyakki Gosho
百鬼豪衝
(During Hyakkishuu)
Hyakki Gojin
百鬼豪刃
(During Hyakkishuu)
Hyakki Gosai
百鬼豪砕
(During Hyakkishuu) +
Throw
Ashura Senku
阿修羅閃空
/ + /
Teleport
Focus Attack

+
Shungokusatsu
瞬獄殺
Shin Shungokusatsu
真・瞬獄殺

Marks
Move Name
Commands
Notes
Goshoha
豪衝破
( +) +
Syuretto
朱裂刀
+ +
Zugaihasatsu
頭蓋破殺
+
Overhead
Tenmakujinkyaku
天魔空刃脚
+
Executed at apex of forward jump
★
Gohadoken
豪波動拳
+
★
Shakunetsu Hadoken
灼熱波動拳
+
★
Zanku Hadoken
斬空波動拳
+
★
Goshoryuken
豪昇龍拳
+
★
Tatsumaki Zankukyaku
竜巻斬空脚
+
★
Kuchu Tatsumaki Zankukyaku
空中竜巻斬空脚
+
★
Hyakkishu
百鬼襲
+
Hyakki Gozan
百鬼豪斬
(During Hyakkishuu) No input
★
Hyakki Gosho
百鬼豪衝
(During Hyakkishuu)
Hyakki Gojin
百鬼豪刃
(During Hyakkishuu)
Hyakki Gosai
百鬼豪砕
(During Hyakkishuu) +
Throw
Ashura Senku
阿修羅閃空
/ + /
Teleport
Focus Attack

+
Shungokusatsu
瞬獄殺
Shin Shungokusatsu
真・瞬獄殺
★
Tenshou Kaireki Jin
天衝海轢刃
+