From StrategyWiki, the video game walkthrough and strategy guide wiki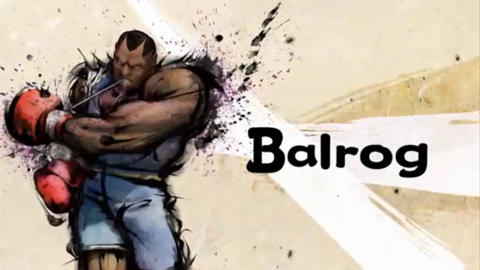 Click here for more information about Balrog's other fighting game appearances.
The former boxing champion and prizefighter will work for whoever offers up the most cash. After being tossed from boxing for permanently injuring his opponent with illegal moves, Balrog joined Shadaloo and moved through the ranks to become Bison's enforcer. After Shadaloo's collapse, Balrog disappeared into the shadows. But you know this boxer can't stay out of the spotlight for too long.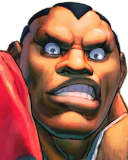 Marks
Move Name
Commands
Notes
Head Bomber

( +) +
Lever Break

+ +
★
Dash Straight
ダッシュストレート
+
★
Dash Upper
ダシュアッパー
+
★
Dash Low Straight
ダシュグランドストレート
+
★ ★
Dash Low Smash
ダシュグランドスマッシュ
+
★ ★
Dash Swing Blow

+ Hold
★
Buffalo Head

+
★
Turn Punch
ターンパンチ
Hold or , Release
Focus Attack

+
★
Crazy Buffalo
クレイジーバッファロー
+ , Hold
Hold Kick for uppercut version;
★
Violent Buffalo
バイオレンスバッファロー
+ , Hold
Hold Kick for uppercut version;

| Marks | Move Name | Commands | Notes |
| --- | --- | --- | --- |
| | Head Bomber | ( +) + | |
| | Lever Break | + + | |
| ★ | Dash Straight | + | |
| ★ | Dash Upper | + | |
| ★ | Dash Low Straight | + | |
| ★ ★ | Dash Low Smash | + | |
| ★ ★ | Dash Swing Blow | + Hold | |
| ★ ★ | Buffalo Head | + | |
| ★ | Turn Punch | Hold or , Release | |
| | Focus Attack | + | |
| ★ | Crazy Buffalo | + , Hold | Hold Kick for uppercut version; |
| ★ | Violent Buffalo | + , Hold | Hold Kick for uppercut version; |
| | Dirty Bull | + | |