Jump to navigation
Jump to search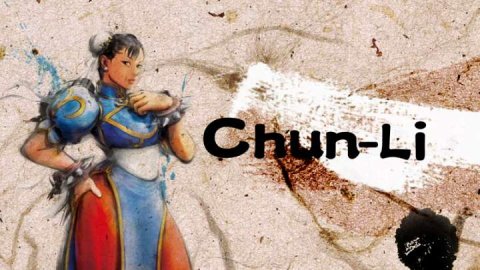 Click here for more information about Chun-Li's other fighting game appearances.
Interpol investigator Chun-Li joined the force at the age of 18 searching for clues regarding her father's death. After gaining a lead from her father's friend about the crime organization Shadaloo, the young detective found the murderer she was searching for, M. Bison. She challenged the demented tyrant but was quickly defeated. With tears in her eyes, she swore vengeance. Her time would come at the second World Warrior tournament where she played a major part in crushing Bison's crime syndicate, Shadaloo. The peace was short lived as the organization begins to stir once more. This time Chun-Li is ready to bring Bison and his Shadaloo organization to their knees and break them once and for all. They will not out run justice.
Chun-Li's power lies in her strong and beautiful legs. Her rapid charging attacks take opponents by surprise and strikes such as the Kikoken send them flying even farther than her kicks.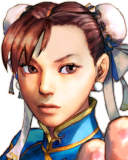 Marks
Move Name
Commands
Notes
Koshu-to
虎襲倒
( +) +
Kirin Shuu
麒麟蹴
+ +
Ryuseiraku
龍星落
( +) +
Kaku Kyaku Raku

+
Rear Spin Kick

+
Kakusen Shuu

+
Kinteki Shuu

+
Tenkuu Kyaku

during Kinteki Shuu
Tenshou Kyaku

during Tenkuu Kyaku
Yousou Kyaku
鷹爪脚
+
Can be performed up to 3 times in sequence.
Sankaku Tobi
三角跳び
/ off the wall
★
Hyakuretsu Kyaku
百裂脚
★
Kikouken
気功拳
+
★
Hazan Shuu
覇山蹴
+
★ ★
Spinning Bird Kick
スピニングバードキック
+
EX Version hits crouching opponents; Knocks down.
Focus Attack
---
+
Senretsu Kyaku
千裂脚
+
★
Housenka
鳳扇華
+

Marks
Move Name
Commands
Notes
Koshu-to
虎襲倒
( +) +
Kirin Shuu
麒麟蹴
+ +
Ryuseiraku
龍星落
( +) +
Kaku Kyaku Raku

+
Rear Spin Kick

+
Kakusen Shuu

+
Kinteki Shuu

+
Tenkuu Kyaku

during Kinteki Shuu
Tenshou Kyaku

during Tenkuu Kyaku
Yousou Kyaku
鷹爪脚
Sankaku Tobi
三角跳び
/ off the wall
★
Hyakuretsu Kyaku
百裂脚
★
Kikouken
気功拳
+
★
Hazan Shuu
覇山蹴
+
★ ★
Spinning Bird Kick
スピニングバードキック
+
EX Version hits crouching opponents; Knocks down.
Focus Attack
---
+
Senretsu Kyaku
千裂脚
+
★
Housenka
鳳扇華
+
Kikoshou
続気掌
+