Jump to navigation
Jump to search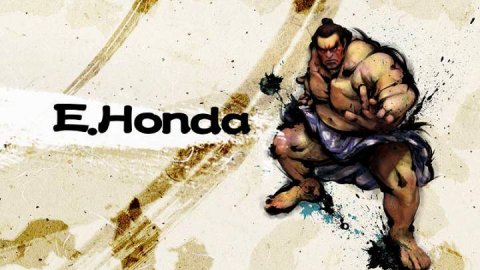 Click here for more information about E. Honda's other fighting game appearances.
This larger-than-life sumo wrestler has only one thing on his mind: show the world the potential of his sport. Although wildly popular in his native Japan, E. Honda is upset at the rest of the world's disinterest toward sumo wrestling.
When caught up in the passion of his sport, E. Honda is a fierce warrior with aggressive moves. But this belies his honest and sportsman-like nature. He cares deeply about his sport and isn't afraid to stand up against any evil that may be targeting it or his fellow athletes.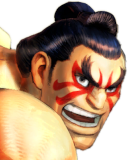 Marks
Move Name
Commands
Notes
Sabaori

( +) +
Rice Bale Throw

+ +
Shikofumi

+
★
Hyakuretsu Harite
百裂張り手
Rapidly Tap
★ ★
Super Zutsuki
スーパー頭突き
+
★
Super Hyakkan Otoshi
スーパー百貫落とし
+
★
Ooichou Nage
大銀杏投げ
+
Focus Attack

+
Oni Musou
鬼無双
+
★
Super Oni Musou
スーパー鬼無双
+

| Marks | Move Name | Commands | Notes |
| --- | --- | --- | --- |
| | Sabaori | ( +) + | |
| | Rice Bale Throw | + + | |
| | Shikofumi | + | |
| ★ | Hyakuretsu Harite | Rapidly Tap | |
| ★ ★ | Super Zutsuki | + | |
| ★ | Super Hyakkan Otoshi | + | |
| ★ | Ooichou Nage | + | |
| | Focus Attack | + | |
| | Oni Musou | + | |
| ★ | Super Oni Musou | + | |
| | Orochi Kudaki | + | |