Jump to navigation
Jump to search
Click here for more information about Ken's other fighting game appearances.
The heir apparent to the largest conglomerate in the United States, 12-year-old Ken Masters was shipped off to Japan by his father to learn discipline under his good friend, Gouken. Although hesitant at first, Ken eventually warmed up to his new environment, getting along especially well with his fellow student, Ryu. Ken's warm and passionate nature contrasts his best friend, and the two love to test one another. He just can't say no to a challenge from Ryu.
Now settled into a comfortable life in America with his expecting wife, Ken is reluctant to enter the new fighting tournament. It is only after Ryu issues a personal challenge that he enters the tournament, ready to show his good friend that he still has his fighting spirit.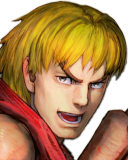 Marks
Move Name
Commands
Notes
Seoi Nage
背負い投げ
( +) +
Jigoku Guruma
地獄風車
+
Inazuma Kakato Wari
稲妻かかと割り
Fumikomi Mae Geri
踏み込み前蹴り
Shiden Kakato Otoshi
紫電かかと落とし
Continue holding to cancel attack.
★
Hadouken
波動拳
+
EX version knocks down.
★
Shouryuuken
昇龍拳
+
★
Tatsumaki Senpuukyaku
龍卷旋風腳
+
★
Kuuchuu Tatsumaki Senpuukyaku
空中龍卷旋風腳
+
Focus Attack
---
+
Shouryuureppa
昇龍裂破
+
Shinryuuken
神龍拳
+

Marks
Move Name
Commands
Notes
Seoi Nage
背負い投げ
( +) +
Jigoku Guruma
地獄風車
+
Inazuma Kakato Wari
稲妻かかと割り
+
Fumikomi Mae Geri
踏み込み前蹴り
+
Shiden Kakato Otoshi
紫電かかと落とし
+
Continue holding to cancel attack.
★
Hadouken
波動拳
+
EX version knocks down.
★
Shouryuuken
昇龍拳
+
★★
Tatsumaki Senpuukyaku
龍卷旋風腳
+
★
Kuuchuu Tatsumaki Senpuukyaku
空中龍卷旋風腳
+
Focus Attack
---
+
Shouryuureppa
昇龍裂破
+
★
Shinryuuken
神龍拳
+
★
Guren Senpukyaku
紅蓮旋風腳
+