Jump to navigation
Jump to search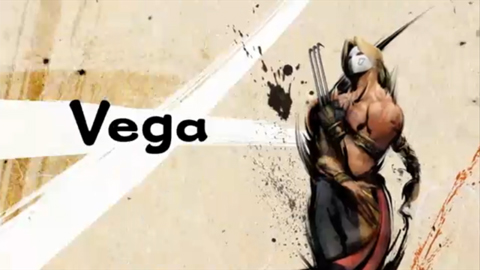 Click here for more information about Vega's other fighting game appearances.
The privileged Catalonian has an obsession with beauty and one hell of a dark streak. Having studied both bullfighting and ninjutsu, Vega blended the two together, forming a quick acrobatic combat style. He began his wicked ways after witnessing the death of his mother at the hands of his stepfather. Enraged, he murdered his stepfather. The incident left a huge imprint, changing Vega into a pitiless killer. It is this characteristic, as well as his fighting abilities, that drew M. Bison to entice Vega to join Shadaloo.
Vega is the only fighter to keep a weapon with him at all times, using a claw to extend his reach and deliver slashing strikes. His other accessory, a white mask, is used to protect his flawless face.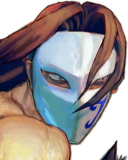 Marks
Move Name
Commands
Notes
Rainbow Suplex

( +) +
Crescent Line

+ +
Stardust Drop

( +) +
Piece of Mercury

+
Cosmic Heel

+
Back Slash

Short Back Slash

Sankaku Tobi
三角跳び
/ off the wall
★
Rolling Crystal Flash

+
★ ★
Scarlet Terror

+
★
Sky High Claw

+
EX has Armor Break ability
★
Flying Barcelona Attack

or +
Izuna Drop

or +
After Flying Barcelona Attack
★
Remove Claw

+
★
Remove Mask

+
EX version of Remove Claw; uses half of Super Combo Gauge
Focus Attack

+
Flying Barcelona Special

or +
Rolling Izuna Drop

or +
After Flying Barcelona Special
★
Bloody High Claw

or +

Marks
Move Name
Commands
Notes
Rainbow Suplex

( +) +
Crescent Line

+ +
Stardust Drop

( +) +
Piece of Mercury

+
Cosmic Heel

+
Back Slash

Short Back Slash

Sankaku Tobi
三角跳び
/ off the wall
★
Rolling Crystal Flash

+
★ ★
Scarlet Terror

+
★
Sky High Claw

+
EX has Armor Break ability
★
Flying Barcelona Attack

or +
Izuna Drop

or +
After Flying Barcelona Attack
★
Remove Claw

+
★
Remove Mask

+
EX version of Remove Claw; uses half of Super Combo Gauge
Focus Attack

+
Flying Barcelona Special

or +
Rolling Izuna Drop

or +
After Flying Barcelona Special
★
Bloody High Claw

or +
Splendid Claw

or +