Jump to navigation
Jump to search
All characters have five stats: Power, Technique, Speed, Jump and Stamina. All stats are given as a number from one to three. The sum of the stats is ten for every character, meaning they are all approximately of the same strength. However, some characters are specialized while others are more balanced. See the moves and controls page for the different attacks each character can perform.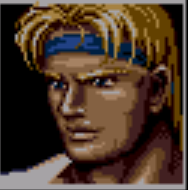 Power: 2
Technique: 3
Speed: 2
Jump: 1
Stamina: 2
Axel Stone is one of the characters that remained from the original Streets of Rage. He is an ex-cop and martial-arts specialist who is currently working as a bodyguard. This is one of the more balanced characters in the game. For beginners, this is probably the best character to start with.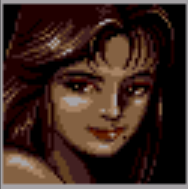 Power: 2
Technique: 2
Speed: 2
Jump: 2
Stamina: 2
Blaze Fielding, the judo expert, is still the only female playable character. She is the other character that returns from the original game. Also an ex-cop, she is currently a dance teacher. Obviously this is the most balanced character with all stats equal to two.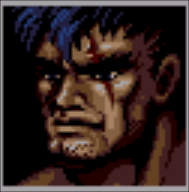 Power: 3
Technique: 2
Speed: 1
Jump: 1
Stamina: 3
Axel's friend Max is a new character. He is the strongest character and has the highest stamina but lacks in ability to jump and in speed. He has some of the attacks which do the most damage, "Atomic drop" being the strongest move in the game. However, he has a few less move available than the other characters. He is especially dangerous if he has a Lead pipe or Katana.
Skate/Sammy
[
edit
]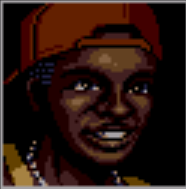 Power: 1
Technique: 2
Speed: 3
Jump: 3
Stamina: 1
Eddie "Skate" Hunter (called Sammy in the Japanese version of the game) is the brother of the character Adam Hunter from the original game. This is also a very unbalanced character. Due to his weakness he is not very good at using the Lead pipe or Katana. He is, however, extremely dangerous with the knife. He is also the only one that can "sprint" by double tapping the D-pad. This is a difficult character to play because he has a low stamina and is easily killed.