Jump to navigation
Jump to search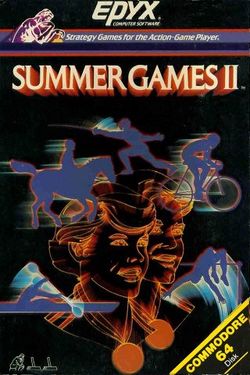 Summer Games II is a sports game developed by Epyx (and released in Europe by U.S. Gold) based on sports featured in the Summer Olympic Games. It is a sequel to the popular Summer Games released by Epyx the previous year. Released in 1985 for the Commodore 64, it was also eventually ported to the Apple II, Atari ST, MS-DOS, Sinclair ZX Spectrum, Amstrad CPC and the Commodore Amiga platforms. It was re-released on the Wii Virtual Console in Europe on June 27, 2008 and in North America on March 16, 2009.
The game was presented as a virtual multi-sport carnival called the "Epyx Games" (there was no official IOC licensing in place) with up to 8 players each choosing a country to represent, and then taking turns competing in various events to try for a medal. World records could be saved to the game disk.
The game allowed the player to compete in all of the events sequentially, compete in some events, compete in one event, or practice an event as long as necessary. This version also features both the opening and closing ceremonies, where the closing ceremonies features a "fan man", the flame extinguishing as the sky goes dark, a blimp passing by and some fireworks. Certain ports also allow for participants to compete in events from the original Summer Games events, but they had to have the original Summer Games diskette to enable this feature.
Table of Contents