Jump to navigation
Jump to search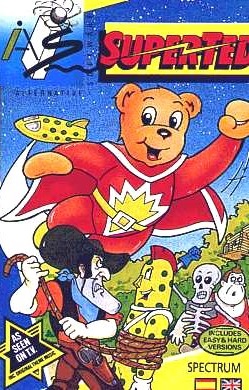 SuperTed: The Search for Spot is an action game, that was developed up by Enigma Variations for Alternative Software and released on the Sinclair ZX Spectrum, Amstrad CPC and Commodore 64 in 1990; it is based on that now-axed Siriol Animation and S4C television series of the same name, and the sequel to Longman Software's earlier SuperTed game, from 1984. However, unlike other Enigma Variations-developed Alternative Software games based on television shows such as Count Duckula, Sooty and Sweep, and Thomas the Tank Engine and Friends, it never made it on to the Commodore Amiga - and neither did the game of S4C's new mascot, Fireman Sam, when released the year after.
This is from the back of the cassette's inlay card, the front of which is shown in the image to the right:
This is going to be a tough mission for our superhero - SuperTed. His best
friend Spotty has been kidnapped by the evil and tricky Texas Pete with his
henchmen Bulk and Skeleton.
Luckily, Spotty is carrying a homing device which he manages to switch on
before being bundled into Texas Pete's car.
You must help SuperTed rescue Spotty. Remember SuperTed is no ordinary bear,
he has many special powers - not least of all he can fly!
© S4C and Siriol Animation Limited 1990
Table of Contents