Jump to navigation
Jump to search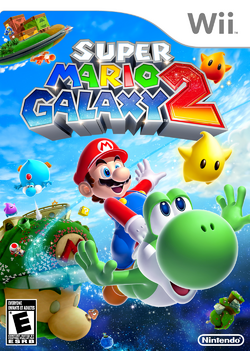 Super Mario Galaxy 2 (スーパーマリオギャラクシー2, Sūpā Mario Gyarakushī Tsū?) is a platform video game developed by Nintendo for the Wii. It was first announced at E3 2009 and is the sequel to the 2007 game Super Mario Galaxy. It was released in North America on May 23, 2010, in Japan on May 27, 2010, in Europe on June 11, 2010, and in Australia on July 1, 2010. The game's levels are galaxies filled with minor planets and worlds. While its gameplay is based on that of its predecessor, the game was updated with gravity effects and new power-ups. It is the fourth original 3D platformer in the Mario series, after Super Mario 64, Super Mario Sunshine, and Super Mario Galaxy.
The game was originally planned as a simple iteration of Super Mario Galaxy with few modifications and a projected development time of a year (this version would be called More Super Mario Galaxy). However it was decided that the game to be developed as a fleshed-out sequel when the development staff continued to build upon the game with dozens of new ideas, and so development time expanded to two and a half years. Among the additions are the ability to ride Yoshi and new power-ups.
Princess Peach invites Mario to share some cake at the Star Festival, a time when star bits rain down from the skies over the Mushroom Kingdom. On his way, Mario finds a Luma (Baby Chico), who immediately befriends him and grants him the ability to spin. Shortly thereafter, Mario's archnemesis Bowser, who has grown to an immense size (after swallowing Grand Stars, unbeknownst to Mario at this point), invades and attacks the Mushroom Kingdom. Kidnapping the princess, Bowser escapes into outer space to create his empire at the center of the universe again. After launching into outer space, Mario is given control of Starship Mario, a mobile planetoid in the shape of his head, made by a crafty Luma mechanic called Lubba, powered by Power Stars, and piloted by other Lumas. His mission is to fly across the universe in pursuit of Bowser and the Princess and to help Lubba find the lost Lumas that were part of Bowser's plot.
Table of Contents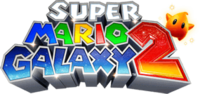 World S