Jump to navigation
Jump to search
When you power up the game, you will first come to the Super Metroid title screen. You can check out the options, or start the game.
Options
[
edit
]
Starting the game
[
edit
]
After the title screen you will come to a screen with three save slots. Pick one of the slots and start the game.
As you play the game, you will see the HUD along the top of the screen, above the action. There are three sections, left, middle, and right. They are:
Left: your energy. This appears as a digit. Any solid pink blocks indicate an additional 99 energy available in reserve. When the digits reach 0, a pink block is used up and becomes dim, and the digits become 99. If no pink blocks are available, Samus will die.
Middle: weapon ammo. As the game progresses, new weapon ammo icons will appear. At the start of the game there are none.
Right: the map. This is just a small portion of the map. To see the full map, press .
Moving around
[
edit
]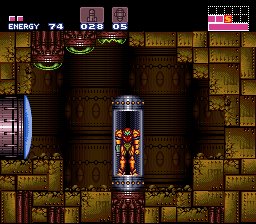 The game can only be saved at certain spots called Save Stations. These are individual rooms that consist of one or two entrances and a tube in the middle. On the map, they appear as a sector with the letter "S" on it.
To save, Samus needs to jump into the tube. This will bring up a message box asking you "Would you like to save?". The game will save if (and only if) "YES" is selected and

is pressed to confirm. Pressing

cancels the message box, so your progress won't be saved. To retry, you have to leave the room and then enter it again. This behavior might trick you into thinking you saved your game, while you really didn't, so you must be specific to press

. When done correctly, the tube will flash a couple of times and a message box will announce "Save completed."
Loading
[
edit
]
Loading basically works like starting a new game, but with a used save slot selected. When loading a previously saved game, the player will first get to see a generic map highlighting the area of Zebes she has saved in, whereafter a map revealing the exact position of the Save Station is shown. Both can be proceeded from by pressing

. After the maps, the player will start from the exact point she left off, namely the tube in the Save Station. The amount of Energy and Items will also be restored.
Objects
[
edit
]