Jump to navigation
Jump to search
Atari 400/800
[
edit
]
Developed by Atari in 1984 but never released. A pirated prototype of the ROM has been around almost since the game's cancellation. Some of the versions have a bug in later levels where every gate cannot be opened with every key. This version was also planned for release on the Atari 5200.
Commodore 64
[
edit
]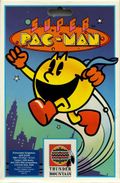 This version was developed by Beam Software and released by Thunder Mountain in 1988. Considered very accurate.
Game Boy Color
[
edit
]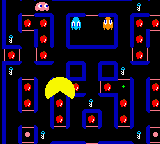 Never released as a single game, but included on the Game Boy Color conversion of Ms. Pac-Man as a bonus game. This version has also reduced the size of the maze. As with the conversions of Pac-Man and Ms. Pac-Man for the Game Boy, you can choose between two views when you play, a full-sized view that scrolls, and a half-sized view that fits the whole screen. On the full-sized view of the game you cannot see your score, or the amount of lives you have remaining. However, you can guess which stage you are currently on by looking at the target items that Pac-Man is eating. Released by Namco in 1999.
IBM PC MS-DOS
[
edit
]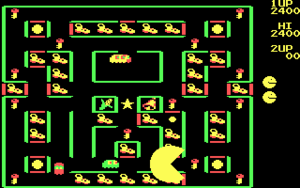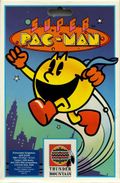 Developed by Beam Software and released by Thunder Mountain in 1989. There is a separate CGA and EGA version (CGA version shown here). As you can see to the left, only the colors of red, yellow and green are used in this version.