Jump to navigation
Jump to search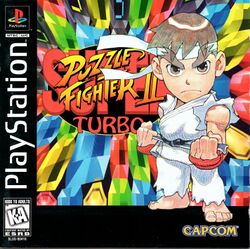 Super Puzzle Fighter II Turbo is an arcade game developed by Capcom in 1996. It is a competitive puzzle game in the vein of Puyo Puyo, where two players compete head to head in an effort to overwhelm the opponent with more puzzle pieces than he or she can handle. What's unique about Puzzle Fighter, is the presentation of two super deformed characters from Capcom's Street Fighter Alpha and Darkstalkers series, that battle with one another with their signature moves, in accordance to the action taking place in each player's puzzle piles. Whether it was the cute presentation of the popular and familiar characters, or the game's raw appeal, players began to flock to the game, and it became a huge success at a time when the arcades were dominated by 2D fighting games.
Although the title has a "II" in it, in no way is it a sequel to any other game. The title is simply a spoof of the irregularly large title of Capcom's Super Street Fighter II Turbo. Likewise, it's known as Super Puzzle Fighter II X in Japan to correspond to Japan's SSF2X. It is, however, a successor in spirit to an earlier puzzle game that Capcom published known as Pnickies (developed by Puyo Puyo creator Compile). The only real difference between the two games is that SPF2T is limited to four colors, and it only takes one special gem to break a cluster instead of requiring two like Pnickies does.
The game was released for the PlayStation and the Sega Saturn in the same year as the arcade's release, and its popularity increased due to the game's limited presence in arcades outside of Japan. Both versions contained a new mode that allowed you to unlock extra colors, music tests, image galleries, and access to hidden characters. In 2001, an enhanced version of the game was released for the Sega Dreamcast for use over Capcom's online matching service. It contained two new modes of play. In 2003, Atomic Planet Entertainment was hired to port the game for play on the Game Boy Advance. While the game was welcomed by American and European audiences, the game was considered too buggy and flawed for release in Japan, and its release was canceled there.
In 2007, Capcom released the game on PlayStation Portable as part of "Capcom Puzzle World", a compilation of several Capcom puzzlers. The version featured has similar features to the Dreamcast version, having the same "Y" and "Z" game modes and the same hidden characters and ways of accessing them.
Later that same year, Capcom released an updated version of the game for the downloadable services for Xbox Live Arcade and the PlayStation Network, presented in High Definition. In addition to the artwork of the characters being cleaned up, each of the gem colors corresponded to a particular element. Red is fire, green is grass, blue is water, yellow is lightning. These effects are purely visual and have no effect on gameplay. A release in HD was announced for Windows, but cancelled.
Box artwork
[
edit
]
Table of Contents