Jump to navigation
Jump to search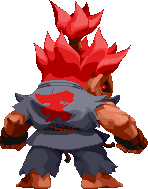 Akuma is a man with no compassion. In order to become the greatest fighter that he could possibly be, he had to sacrifice his own humanity. Now he wanders the earth looking for worthy fighters to engage in combat… to the death. His fighting philosophy applies equally to his puzzle fighting. No one is spared when Akuma attacks. Akuma has perfected his Attack Pattern to optimum levels. He uses it without mercy at all times.
| Portrait | Win Icon | Stage Tile |
| --- | --- | --- |
| | | |
Attack Pattern
[
edit
]
Akuma's attack pattern represents the epitome of the ultimate attack pattern. With no naturally occurring chains or Power Gems, opponents can only get lucky by having staircases in their play field that cause some of the Counter Block colors to line up. However, as a sacrifice for reaching this perfect attack pattern, Akuma suffers a penalty that only allows him to send 70% of the usual amount of Counter Blocks that another fighter with a weaker pattern would send. There is no clear way to counter Akuma's pattern. If Akuma sends an opponent small amounts of chip damage, players might be able to counter by placing green Gems in the second column from the left, and red Gems in the second column from the right.
Stage Description
[
edit
]
Akuma's stage is pretty much a simple recreation of his stage in Street Fighter Alpha 2. It is a cavern with relatively few features, and contains no cameos or other-game references. A statue of Asura, to whom Akuma credits a relation with Satsui no Hadou, resides in the background, while statues of other large characters are scultped into the rocks along the sides. Akuma's stage is the subject of an intermission which causes Akuma some grief, when Demons and bats are various sizes appear to take over Akuma's cave.
| | |
| --- | --- |
| 1 - 11 | Taunt |
| 12 - 17 | Gou Hadouken (1 hit) |
| 18 - 29 | Shakunetsu Hadouken (3 hits) |
| 30+ | Messatsu Gou Hadou (6 hits) |
| 30+ Defeat | Shun Goku Satsu (8 hits) |
Win Quotes
[
edit
]
Evil is what I am. Death is what I bring.
I am Akuma! Also a master puzzler!
To beat you is not enough. I must destroy you!!
You're just a pathetic example of carbon-based wastage.
Player 1: Black gi
Player 2: Red gi
Special 1: Dark blue gi
Special 2: Gray gi
Artwork
[
edit
]