Jump to navigation
Jump to search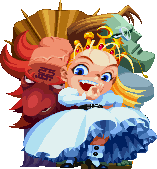 Devilot is the secret boss of Puzzle Fighter. Unfortunately, very few players outside of Japan even recognize who she is. This is because she is from a game that did very poorly in the arcades outside of Japan, and it was only ported to Japanese consoles. She is a boss character of the game Cyberbots, a game which allowed players to select any combination of pilot personalities along with a number of fighting mech-units. Devilot is something of a spoiled child, the product of a union between space pirates. As a result, she feels entitled to go around beating up other mech-units and stealing them for parts or for her private collection. She is accompanied by two odd looking characters, Dave the scientist and Xavier the wizard. Cyberbots unpopularity is the subject of one of her win quotes, "What don't you recognize me!? Cyberbots is Capcom's #1 game!"
| Portrait | Win Icon | Stage Tile |
| --- | --- | --- |
| | | |
Attack Pattern
[
edit
]
If Devilot's attack pattern looks similar to Akuma's, that's because it is similar. It's the mirror image to be precise. So it has the same strengths and next to no weaknesses that Akuma's attack pattern has. As a result, Devilot also suffers from the same penalty as Akuma: she only sends 70% as many Counter Gems as other fighters would for the same amount of Gem destruction. Nevertheless, that 70% can still be extraordinarily difficult to handle, since it creates almost no opportunity for chains or Power Gems to occur naturally. You might be able to counter a weaker player by positioning red gems in the second to left column, or green gems in the second to right.
Stage Description
[
edit
]

Devilot's stage is taking place, presumably, inside of her S-008 Super-8 octopus mech. There is a wide variety of assorted gadgets and lifeforms scattered throughout the place. There are a number of references to octopus, including the tentacles that can be seen on the left, and an octopus doll sitting on top of the orange mechanical unit on the left. There does not appear to be any other references or cameos in the stage, save one: the nautilus (small tentacled animal with the round shell) off to the left, may be a reference to Red Earth's Hydron, even though the game was under development at the same time that Puzzle Fighter was.
| | |
| --- | --- |
| 1 - 11 | Taunt |
| 12 - 17 | Attack (2 hits) |
| 18 - 23 | Attack (3 hits) |
| 24 - 29 | Attack (4 hits) |
| 30+ | Laser Beam (10 hits) |
Win Quotes
[
edit
]
I know you want me... but can you handle it?
Let the gems hold you as I plan for your death!
What don't you recognize me!? Cyberbots is Capcom's #1 game!
You've been very bad. Your punishment: the death penalty!
Player 1: Blond hair, blueish white dress
Player 2: Gold hair, greenish white dress
Special 1: Orange hair, grayish white dress
Special 2: Pink hair, pinkish white dress
Artwork
[
edit
]