Jump to navigation
Jump to search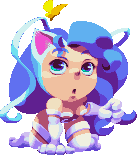 Felicia is probably the second most popular Darkstalkers warrior after Morrigan, judging by the number appearances she has made outside of her original series. She is presented as a good-natured optimist who only sees the best in people, and she wants to be a star. Puzzle Fighter shows off her light-hearted sense of humor, as well as her penchant for taking cat-naps after a battle. Click here to find out more about Felicia.
| Portrait | Win Icon | Stage Tile |
| --- | --- | --- |
| | | |
Attack Pattern
[
edit
]
Felicia's pattern is pretty decent against average players, but expert players can exploit it rather easily. With just a tiny amount of chip damage, Felicia still drops four different colors on her opponents, enough to screw up long term plans for wide chains and Power Gems. With a full damage attack, even Power Gems are unlikely unless the middle four columns are even. Chains will definitely form on either outer-column, and this is where counter-attack experts will thrive. By restricting green blocks to the left side of their play field, and yellow block to the right side, players can take advantage of Felicia's continuous column drop of green and yellow Gems. Opponents of Felicia are advised to use Rainbow Gems primarily on red or blue Gems, in hopes of creating a large central Power Gem out of the remaining color.
Stage Description
[
edit
]

Felicia's stage is an alternate take of her original Darkstalkers stage. It takes place on a roof top in some entertainment district in Japan. A neon billboard of Ken can be seen with a rising and falling hand making a victory sign. The only other-game reference that can be seen is on the right side, where a giant recreation of M. Bison's hat is positioned above a sign that reads "Vegas". This could be a reference to Las Vegas, but it is more likely a reference to M. Bison's name in Japan, where he is known as Vega. Also, the building next to Bison's hat has the kanji "Ten" on it, representing Akuma where he will show this kanji on his back as a victory pose.
| | |
| --- | --- |
| 1 - 11 | Taunt |
| 12 - 17 | Sand Splash (2 hit) |
| 18 - 29 | Sand Splash (3 hit) |
| 30+ | ES Sand Splash (4 hit) |
| 30+ Defeat | Please Help Me! (8 hit) |
Win Quotes
[
edit
]
I won by a tail's length. Now go back to my litterbox!
Meow... How'd you like them apples?
You're about as sharp as a circle!
You're stoned! Get it? Ha ha ha...
Player 1: Blue hair, gray highlights
Player 2: Pink hair, yellow highlights
Special 1: Orange hair, blue highlights
Special 2: Gray hair, pink highlights
Artwork
[
edit
]