Jump to navigation
Jump to search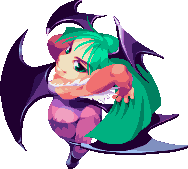 Morrigan simply loves conflict. It's not about a victory for her, it's about the effort expended and the pain inflicted. She loves that, and thrives on it. She's also a playful flirt. She enjoys toying with her opponents as much as she enjoys fighting them. As a succubus, she has many powers, most of which are not fully understood. She has an ability to quickly alter her appearance from her original outfit to that of her opponents, which she does, again, for fun. Morrigan is the original Flash Combo fighter who kicked off a trend that appeared in Pocket Fighter. Click here for more information about Morrigan's various fighting series appearances.
| Portrait | Win Icon | Stage Tile |
| --- | --- | --- |
| | | |
Attack Pattern
[
edit
]
Morrigan certainly has one of the better attack patterns after Donovan and Ken. With three different colors in her bottom row and a complete change in columns after two rows, Morrigan can punish players with both chip damage, and large attacks. Small attacks result in a variety of colors being dropped. Large attacks may commonly result in Power Gems being created in the middle, but rarely ever chains. Countering Morrigan can be a little difficult, but even arranging towers of blue or yellow Gems along the sides can help create counter attack opportunities. Alternatively, opponents may choose to amass red Gems in the center, with hopes of creating a large Power Gem.
Stage Description
[
edit
]

Morrigan's stage is nearly identical to Donovan's stage, with a few elements altered in the foreground, and a noticeable difference in the background. In the foreground, the statue of Lord Raptor remains, Bishomon's skull is still on the ground near Raptor, and Pyron's skull is still on the stone arch. But, Huitzil and Rikuo are replaced by a single bat, which is typically used to represent Demitri. The background no longer features Jon Talbain howling at a red moon, but rather the castle in which Morrigan resides.
| | |
| --- | --- |
| 1 - 11 | Taunt |
| 12 - 17 | Shadow Blade (2 hits) |
| 18 - 23 | Shadow Blade (3 hits) |
| 24 - 29 | Shadow Blade (3 hits) |
| 30+ | ES Shadow Blade (6 hits) |
Win Quotes
[
edit
]
Baby, baby, baby... I didn't even sweat!
It's not whether I win or lose, just as long as I piss you off!
Oh Damn... I think I split a hair.
The sun's rising. I will rest 'til the morrow, then win again.
Player 1: Light green hair, violet tights
Player 2: Gold hair, pink tights
Special 1: Green hair, purple tights
Special 2: White hair, red tights
Artwork
[
edit
]