Jump to navigation
Jump to search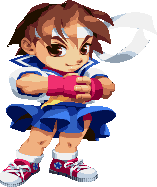 Sakura is the young competitive school girl who seeks to train under Ryu, after seeing him foil armed robbers with just his fists. She loves to compete and strives to be the best at everything she does. So naturally, she enjoys a good round of puzzle fighter as well. Her spirit is almost unstoppable—even in defeat, she makes sure to learn how she can do better the next time and win. Sakura may be young, but she is fast becoming one of the best puzzle fighters around.
| Portrait | Win Icon | Stage Tile |
| --- | --- | --- |
| | | |
Attack Pattern
[
edit
]
Sakura's attack pattern have been described as a mix of Ryu's attack pattern on the outside, and Ken's attack pattern in the middle. While an accurate description, it's not much better than Ryu's, and has considerably less potential than Ken's. Sakura's attack pattern has the same weakness as Felicia; opponents can easily counter it by positioning green Gems to the left and yellow Gems to the right. When Rainbow Gems arrive, landing one on top of a blue Gem typically results in a large red Power Gem being formed in the middle. It can be tough to win with Sakura. Chip damage just sets opponents up for a large red Gem, and large attacks are still vulnerable on the sides.
Stage Description
[
edit
]

Sakura's stage is actually based on Ryu's Street Fighter Alpha stage. Perhaps she just missed him, only to arrive in time for a round of Puzzle Fighter. In comparison to Ryu's version of this stage at night time, there is comparatively little going on in the day time. All that is added is a beautiful sakura tree to the foreground. Sakura's school can be seen off in the distance.
| | |
| --- | --- |
| 1 - 11 | Taunt |
| 12 - 17 | Hadouken (2 hits) |
| 18 - 23 | Large Hadouken (3 hits) |
| 24 - 29 | Shinkuu Hadouken (4 hits) |
| 30+ | Shinkuu Hadouken (5 hits) |
Player 1: Blue skirt, red guards/sneakers
Player 2: Red skirt, aqua guards/sneakers
Special 1: Teal skirt, blue guards/sneakers
Special 2: Purple skirt, purple guards/sneakers, tan skin
Win Quotes
[
edit
]
Only my second game, and I am already the best!
Whew, you were good! I've got to train harder!
Yes... All part of the plan!
You're quick, smart, and cheap! No wait... that's me! Ha ha ha.
Artwork
[
edit
]