Jump to navigation
Jump to search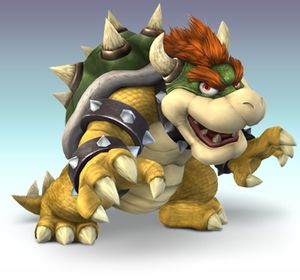 Mario's long-known rival, the king of Koopas, is ready to make his grand entrance into PM as a bigger and better version of his Melee and Brawl selves combined.
Bowser in Project M is who you expect him to be; he is the heaviest character in the game who exchanges large amounts of speed for tremendous power.
With all of the buffs Bowser has received, he has become a much more dangerous foe to compete against than in Melee and Brawl. His side special, Koopa Klaw, when aimed downwards, is a good tool for tech-chasing when using the grounded version, as when performed, Bowser throws his opponent to the ground and meteor smashes them, rendering them vulnerable to follow-ups that you can take the opportunity to perform should they fail to tech. On the other hand, the aerial version of the move is able to spike opponents, making it one of Bowser's best edgeguarders in the game.
Basic Attacks
[
edit
]
| Wii Remote + Nunchuk | Wii Remote (sideways) | Wii Classic Controller | GameCube Controller | Normal Attack | Info |
| --- | --- | --- | --- | --- | --- |
| | | | | Double Claw | Two quick claw swipes. This is one of Bowser's main moves. First hit deals more damage. |
| while dashing | while dashing | while dashing | while dashing | Tripping Lunge | Running headbutt. Gives Bowser light armor. |
| + | + | + | + | Bowser Knuckle | Punches while leaning his body forward. Can be aimed up or down. Much better for KOS than in Melee or Brawl and deals more shield damage. |
| + | + | + | + | Upward Claw | Swats the air above him. Useful for combos and KOs. |
| + | + | + | + | Low Swipe | Claw swipes while crouched. Does an optional second hit if the attack button is pressed a second time. |
Smash Attacks
[
edit
]
| Wii Remote + Nunchuk | Wii Remote (sideways) | Wii Classic Controller | GameCube Controller | Attack | Info |
| --- | --- | --- | --- | --- | --- |
| Smash + | ++ | (Smash +) or | (Smash +) or | Horn Bash | Does an explosive headbutt It deals explosive flame damage on contact. Strongest side smash in the game. Try to catch your opponent off guard then use this for the kill. Grants varying amounts of armor based on charge, with full charge granting heavy armor. |
| Smash + | ++ | (Smash +) or | (Smash +) or | Spike Slam | Hurls his shell upwards then crashes down. If aerial opponents are hit by the downwards hitbox, Grants varying amounts of armor based on charge, with full charge granting heavy armor. |
| Smash + | ++ | (Smash +) or | (Smash +) or | Shell Spin | Spins his shell. Hard to escape. Grants varying amounts of armor based on charge, with full charge granting heavy armor. |
Pummels and Throws
[
edit
]
| Wii Remote + Nunchuk | Wii Remote (sideways) | Wii Classic Controller | GameCube Controller | Pummel/Throw | Info |
| --- | --- | --- | --- | --- | --- |
| after grab | after grab | after grab | after grab | Headbutt | Bowser bites the opponent. Very slow for a pummel. |
| after grab | after grab | after grab | after grab | Forward Hurl | Bowser launches the opponent forward. |
| after grab | after grab | after grab | after grab | One-Hand-Swing | Bowser throws the opponent backwards like DK's back throw. |
| after grab | after grab | after grab | after grab | Spike Spin | Bowser places the opponent on his shell and spins. |
| after grab | after grab | after grab | after grab | Bowser Slam | Throws his body on to the opponent. |
Air Attacks
[
edit
]
| Wii Remote + Nunchuk | Wii Remote (sideways) | Wii Classic Controller | GameCube Controller | Attack | Info |
| --- | --- | --- | --- | --- | --- |
| | | | | Shell Spin | Spins around midair while in his shell. Has medium armor. |
| + | + | + | + | Claw Swipe | Bowser swipes his claw. Possibly his best air attack. |
| + | + | + | + | Shell Bash | Throws his shell backwards, bashing opponents with spikes. |
| + | + | + | + | Head Swing | Bowser swings his head upwards, great for upwards KOs. Most damaging up aerial in the game. |
| + | + | + | + | Inverted Shell | Spins in his shell downwards. Hits if he lands on the ground before the attack ends. |
Special Attacks
[
edit
]
| Wii Remote + Nunchuk | Wii Remote (sideways) | Wii Classic Controller | GameCube Controller | Special Attack | Info |
| --- | --- | --- | --- | --- | --- |
| | | | | Fire Breath | Bowser lets out a large stream of fire that will decrease in length the longer you use it. |
| + | + | + | + | Koopa Klaw | His side special from Melee, Bowser grabs the opponent, and can throw them forwards, backwards, or downwards (but not as Giga Bowser). The aerial version of the down throw spikes aerial opponents. The forward throw launches opponents vertically and can combo. The back throw is a strong KO move at high percents. If no one is grabbed, Bowser does a forceful vertical swipe. |
| + | + | + | + | Whirling Fortress | Bowser retreats in his shell and rapidly spins around, similar to DK's Spinning Kong. This is Bowser's best move. Abuse this as much as possible, and remember to use this out of shield. |
| + | + | + | + | Bowser Bomb | Bowser's version of a butt-stomp, he will decend to the ground quickly to pummel anyone under him. If Bowser is in midair when using this move, he slams to the ground with a butt-stomp. If he's on the ground doing this, he will leap forward diagonally before performing the move, it's possible to hit the opponent with the initial jump. Similar to Yoshi's Down B only stronger, with no stars. |
| Wii Remote + Nunchuk | Wii Remote (sideways) | Wii Classic Controller | GameCube Controller | Taunt |
| --- | --- | --- | --- | --- |
| | | | | He roars. The taunt he uses in Super Smash Bros Melee. But this time, the taunt is actually a very similar idle pose from Brawl (he does not lean back as far) |
| + | ( or )+ | or | or | He starts chomping at the air around him. |
| | + | | | He stands on one foot and dances around. |