Jump to navigation
Jump to search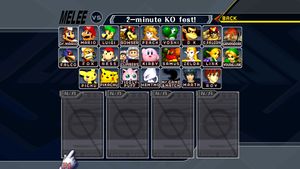 This section discusses the 26 playable character in detail, providing an overall view of the character, their pros and cons, unique moves, and more. The format for each character is as follows:
Summary of character, including background information
Games in which this character is featured.
Button special moves for the character (standing still, left/right, up, down).
Helpful comments and tips relating to the character.
How to use Taunt and what the character's Taunt is.
Starting Characters
[
edit
]
Mario
Learning Curve
Easy
Weight Class
Medium
Statistic
Value
Ranking
Weight
100
8th
Avg. Fall Speed
101
15th
Total Jump Height
23rd
Grab Range
21st
Avg. Item Throw
6.5
4th
Running Speed
12th
Mario has been at the forefront of Nintendo for a long time. Mario was originally known as Jumpman in the original Donkey Kong arcade game. Since then Donkey Kong has become a hero and Bowser has taken his place as Mario's arch nemesis. Mario set the standard for 2D platformers, and, with Super Mario 64, the standard for 3D platformers.
As a character, he possesses no notable strengths in keeping with his jack-of-all-trades nature, but it does give him a notable weakness; his lack of specialization gives him difficulty dealing with the unique abilities of most other characters, which is compounded with his predictable and below-average recovery and poor range leaves him as a mediocre at best character. Not helping is how he's made redundant by his clone Dr. Mario, who is overall nearly identical, except much more powerful.
Advantages
Power: Mario has above-average power, giving him a slightly easier time than normal KOing enemies.
Powerful grabs/throws: Mario's throws are exceptionally powerful, especially the backwards throw. This can be used to throw people out of the stage or to kill them.
Fireball: This attack is a great projectile that can sometimes stop opponents from getting back into the arena.
Cape: Mario's cape is very deadly, this can turn the enemy around. This can be used to edge guard.
/+: This is a meteor smash, this can be used to quickly send enemies flying down towards the ground. You have to aim them well.
FSMASH: This is one of Mario's strongest attacks, if used correctly this can send an enemy flying away at around 100%.
Disadvantages
Running speed: He is pretty slow at running, so I suggest when using him use wavedashes, which are actually pretty long due to Mario possessing relatively low traction.
Total jump height: His total jump height isn't very far so when blown out of stage you have quite a high chance of death.
Grab range: Low grab range, so if you want to spam grabs, it could be hard.
Low range: His range in general is poor.
Mediocre recovery: While Cape and Mario Tornado can help, Super Jump Punch grants subpar vertical height and poor horizontal distance.
Featured Games
---
B Button Special Attacks
: Fireball - A projectile that bounces along the ground and off its surroundings.
+/: Cape - Reflects projectiles and reverses enemies, and can grant him a midair boost when recovering,
+: Super Jump Punch - Pummels opponents in a shower of coins. Can be used as a third jump to return to the stage, but is quite poor for that purpose.
Bowser
Learning Curve
Medium
Weight Class
Heavy
Statistic
Value
Ranking
Weight
117
1st
Avg. Fall Speed
116
10th
Total Jump Height
24th
Grab Range
23rd
Dodge Rating
21/42
25th
Roll Rating
16/39
26th
Avg. Item Throw
17.6
26th
Running Speed
11th
Mario's nemesis, appearing in most of the games starring the plumber. Known as Koopa in Japan, Bowser resembles a mixture between a dragon and a turtle. While mostly just a princess kidnapper, he has gone above and beyond to legitimately threaten the Mushroom Kingdom, like in Super Mario Galaxy, where he was able to take over the galaxy and reform it in his image.... that is, till Mario stopped him.
As a character, Bowser is as expected, a sheer powerhouse. He is among the strongest (if not THE strongest) characters in the game, with attacks like forward smash being among the strongest moves in the game. Additionally, he is very durable too, with decently fast fall speed and being the heaviest character in the game, but these are overridden by a slew of crippling flaws. The biggest of these being his agonizingly slow speed, being the single slowest, and he is pure combo bait due to his massive size, massive weight, and moderate falling speed with his own combo game being bad, and these are especially severe due to speed and combos being everything in a game like Melee (so the entirety of Melee's top tier can easily juggle and combo him). Coupled with slow (but good) aerial attacks, a slow recovery (with it being especially terrible vertically), and awful defensive options, Bowser is easily a bottom 3 character.
Advantages
Power: He is extremely powerful and extremely good and blowing enemies away
+: His UP attack is an exceptionally good defensive move (albeit his only one), and is okay for horizontal recovery at long distances.
Running speed: For some reason, his dash is.... average (running as fast as Mario)
Normal special move: His attack is a very useful attack, especially when edge guarding.
Disadvantages
Slow recoveries: He has slow recoveries so if you miss you may get punished.
Slow attacks: His attacks are slow too.
Solo, slow, slow some more:In fact, he's slow no matter how you define slow.
Heavy: He is pretty heavy and large, so he's combo bait.
Awful combo ability: Pretty rare to see a Bowser combo lasting more than 3 hits.
Poor vertical recovery: Whirling Fortress grants poor vertical height.
Featured Games
---
B Button Special Attacks
: Fire Breath - Breathes fire. The longer you hold it down, the shorter the flame gets.
+/: Koopa Klaw - Slices someone in the immediate vicinity. If you hit somebody you pick them up and you can hit to whack them with your forehead.
+: Whirling Fortress - You go into your shell and spin around. If used on the ground, press left/right to move back and forth.
Pikachu
Learning Curve
Medium
Weight Class
light
Statistic
Value
Ranking
Weight
80
20th
Avg. Fall Speed
108
12th
Total Jump Height
6th
Grab Range
26th
Avg. Item Throw
10.4
20th
Running Speed
4th

Pokémon #25, a yellow mouse with electricity-based attacks. The most well-recognized of all Pokémon, and the most merchandised.
Pikachu's is nowhere near as dominant as he was in the original Smash 64, but he wasn't nerfed as severely as, say, Kirby, and remains a strong force in Melee. He retains his fast speed (albeit lowered), making him hard to catch up with if he retreats. While he struggles with KOing in general, you do not want to get hit by his up smash (the strongest in the game, able to KO as low as 35%), and his up aerial can send the opponent at a deadly semi-spike angle while having good range, and with his long recovery, he can be a hassle to edgeguard. Sadly, these strengths are held back by overall poor range (including the worst grab range) and his poor neutral game.
Overall, Pikachu can be a force to be reckoned with.
Featured Games
---
B Button Special Attacks
: Thunder Jolt - A little bouncing lightning bolt. bounces about half the stage or until it hits something. It can also go up vertical walls like the wing in Corneria. If you attack in the air, it becomes a little ball of lightning that goes down diagonally at a 45 degree angle until it hits ground where it starts behaving normally although the duration of the bolt shortens.
+/: Skull Bash - Chargeable headbutt type attack. The recovery is poor but if the opponent is at high damage and is struck recovery becomes okay. In 3-way or 4-way battles, this move can be charged up and used to rush into a heated brawl and steal a kill by striking a weak opponent. Can be used off-stage to propel Pikachu towards the stage, aiding as a recovery move as well.
+: Quick Attack - A moderately quick attack, quick only during execution with an obvious wind-up time and slow recovery. The attack is fast, but opponents can still strike Pikachu as it Quick Jumps into an opponent. After the first jump if you tilt a second direction on the control stick, you get a second jump. You can Quick Attack in any of the eight directions, even straight down. But if standing on the ground, Pikachu will Quick Attack forward. Can be used as a third jump to return to the stage. Remember that Pikachu will drift a little after the attack, so if the second Quick Attack is straight up, then Pikachu will fall straight down.
+: Thunder - Summons a lightning bolt above your head. Goes straight down until it hits something or hits a platform on the stage. Useful when an opponent is recovering from being knocked off the side of the stage, by standing on the edge and Thundering them upward into the ceiling. In all stages, but best visible in the Hyrule Temple stage, if Pikachu stands on a lower platform you will see a storm cloud where the thunder originates. This storm-cloud strikes for heavy damage and can catch an opponent off guard.
Peach
Learning Curve
Medium
Weight Class
Medium
Statistic
Value
Ranking
Weight
90
12th
Avg. Fall Speed
96
21st
Total Jump Height
22nd
Grab Range
16th
Avg. Item Throw
10
18th
Running Speed
24th
Princess Peach, Princess Toadstool or often simply, Peach is a character in Nintendo's Mario video games series, often playing the "damsel in distress" character of the adventure series. Peach is the princess of the fictitious Mushroom Kingdom, where many of the games are set.
Ironically enough, Peach is considered overall the best Mario representative in Melee (even when sub-series are taken into account), for multiple reasons, the primary being her Vegetables being among the best projectiles in all of Melee, her DJC and float-cancel combos are brutal and give her an edge in the air, and her recovery is simply incredible, with her float and glide from Peach Parasol aiding her.
She is not flawless, though. Her ground game is weak and unrewarding with weak ground attacks (minus down smash of course) and slow attacks, with her light weight and floatiness making her easy to dispatch by characters like Fox. Regardless, Peach loses few matchups, and is definitely one of the best characters in the game.
Advantages
Vegetables: Her vegetables are one of her deadly attacks in this game. They can be used to blow opponents away, stop them from coming back to the stage, to inflict damage and to create a minor distraction. There are chances that you may pull out a sword, a bomb or a really powerful vegetable.
Falling speed: She falls very slowly, this can help when trying to get back into the stage.
Parasol: This is one of her most useful attacks, this can slow down her falling speed even further.
Flying jump: This can help peach in many different ways, it will save her usually. This will further increase her chance of living an attack that blows her away.
Normal special move: Peach's attack can counter many attacks.
Disadvantages
Falling speed: Her slow falling combined with her light weight makes her easy to KO vertically.
Highest reach: She has jumps that don't reach too high.
Grab Range: Her grab range is pretty bad compared to others. Although grabs are still useful.
Running speed: She is very slow at running. I recommend to wavedash all the time, as i have for other characters. Unfortunately, her wavedash is the shortest in the game, though.
Featured Games
Peach has appeared in many games, but is playable only in the following:
---
B Button Special Attacks
: Toad - Pull out Toad to use him as a shield. He blocks all attacks for a split second, and also becomes a counter attack as green spores ricochet off of Toad.
+/: Peach Bomber - A variation on the "hip drop" that results in an explosion if you strike the opponent, with Peach remaining unharmed.
+: Peach Parasol - A clone of the Parasol Item, even awarding bonus points at the end of the battle if using it. Makes it so you float more in the air. The initial attack gives you a height boost. Can be used as a third jump to return to the stage.
+: Vegetable - Pull out a random radish a la Super Mario 2. The happier the expression, the more damage you do when you throw it like a normal item(press ). Sometimes, you will pull out a regular item like a bob-omb, Mr.Saturn, or beamsword. Very rarely, you will pull out a dead radish (closed eyes stitched up mouth) which is Peach's strongest radish (it deals 30%).

At any time, hold

,

, or

to float horizontally for a short time.
Yoshi
Learning Curve
Hard
Weight Class
Medium
Statistic
Value
Ranking
Weight
108
5th
Avg. Fall Speed
107
13th
Total Jump Height
16th
Grab Range
6th
Avg. Item Throw
7.1
13th
Running Speed
9th
Yoshi is a green dinosaur from the aptly named "Yoshi's Island." He is renowned for his ability to flutter in the air, throw eggs, and turn enemies into eggs. All of these and many other moves are retained in Smash Brothers.
Many competitive players agree that Yoshi is one of the characters that has developed the most in Melee. Initially poorly regarded and considered among the worst for multiple crippling flaws (most prominent being his lack to jump out of shield, a flaw that also exists in Brawl), and his lack of a recovery up special (though this is somewhat compensated by his midair jump covering the most distance and having super armor, as well as his very high air speed), slow attacks lead him straight to bottom tier-vile.
However, in 2011, competitive player aMSa showed off some of Yoshi's tremendous strengths, including his shield granting him the ability to parry and counter-attack, his outstanding combo game (especially against fast-fallers) with his nasty double-jump cancel, very flexible and combo-friendly projectile in Egg Throw,and many more. This has lead the adorable dino to become a respectable character.
---
B Button Special Attacks
: Egg Lay - Press to lash out your tongue a short distance. If you snag someone, you turn them into an egg. They will be trapped in it for a few seconds, So take advantage of the time to use the Yoshi Bomb against them a few times.
+/: Egg Roll - You turn into a sparkling egg for about 6 seconds and roll around. If you hit someone, they fly up. A good attack for juggling, but be careful not go careering of an edge.
+: Egg Throw - Throw an egg at an enemy. Aim with the control stick. Tilt control distance. A good annoyance attack.

Yoshi cannot use

+

as a third jump, but his second jump is a flutter jump and is quite large.
Captain Falcon
Learning Curve
Medium
Weight Class
Heavy
Statistic
Value
Ranking
Weight
104
6th
Avg. Fall Speed
151
3rd
Total Jump Height
14th
Grab Range
20th
Dodge Rating
18/32
21st
Avg. Item Throw
7.2
14th
Running Speed
1st
Captain Douglas Jay Falcon is a character in the F-Zero series, Nintendo's fast-paced futuristic racing video game franchise. Captain Falcon races in a F-Zero machine called the Blue Falcon, arguably the most well-rounded vehicle in the games. He is the winner of the F-Zero X Grand Prix and if successful again during the F-Zero Grand Prix in F-Zero GX, according to an interview, he will use the prize money towards building another machine, the Neo Blue Falcon. When he is not taking part in races, he works as a bounty hunter. While most of his past is a complete mystery, it is known that his body and mind are honed from the many battles he has survived.
He is more familiar to some for his appearance in Smash than in F-Zero. In Smash, he is a competitor with style, speed, power, and fan-favorite moves like the Knee Smash (the best forward aerial in Melee, due to it's combo utility, sheer KO power, and flexibility) and Falcon Punch & Kick sprinkled in his moveset. He is the character most resistant to vertical kills due to his weight and falling speed (2nd fastest). His neutral is also very strong. However, his lack of a projectile, surprisingly slow attack speed and awful recovery (with Falcon Dive being unable to grab edgehoggers) can impair some matchups.
Overall, the Cap is a tank with gifted speed, having high damage output and being able to take the same punishment, with the fastest speed in the game to compliment, and capability to outperform anyone.
Featured Games
---
B Button Special Attacks
: Falcon Punch - A really powerful attack that takes a a long time to build up. Good to use on a team battle if you team-mate is holding them. Another tactic is to camp in an area and wait until someone falls, then use it.
+/: Raptor Boost - A extended punch where you run a while with a flaming fist. If you don't hit anyone, you trip and fall and the recovery time is fairly long. if done in mid-air, you can punch an opponent down into the ground or out of the arena.
+: Falcon Dive - Jump up a bit and flash. If you touch someone while jumping, you latch on to them and propel yourself up and to the left/right a bit more and they explode. This attack can actually attack through Kirby's rock attack without damaging you. Can be used as a third jump to return to the stage.
D. K.
Learning Curve
Hard
Weight Class
Heavy
Statistic
Value
Ranking
Weight
114
2nd
Avg. Fall Speed
128
4th
Total Jump Height
24th
Grab Range
16th
Dodge Rating
22/37
18th
Avg. Item Throw
6.5
4th
Running Speed
10th

Donkey Kong is a unique character, being unlike other heavyweights for how fast he is. His speed and agility have increased since Smash 64, but his power has decreased. Yet, he is still strong, being one of the strongest fighters within the cast, seeing as how most of the moves in his repertoire are powerful finishers (with Giant Punch easily being one of the strongest moves in the game at full charge), with range to boot, and also make for effective combo moves. His vertical survivability is the second best in the game due to both his falling speed and heavy weight, with a long horizontal recovery to boot.
Unfortunately, his vertical recovery is not quite on par, leaving it hard to survive even the weakest meteor smash and spike. Also, he has no other recovery options (not even a wall jump), leaving him as a simple character to edgeguard.
pros
Weight: He is the second heaviest character in the game, making his endurance high and thus making him tough to KO.
Power: Donkey Kong is among the strongest characters in the game, true to his weight, so KOing opponents should be no trouble for him.
Speed: As mentioned from above, Donkey Kong is very fast for his weight, allowing him to outrun and catch up to slow characters like Ganondorf.
Fast-falling: Donkey Kong is one of the fastest fallers in the game; this, when combined with his high weight, offers him the 2nd best vertical endurance in the game, in addition to a fast comboing game.
Range: His size and long arms offer him among the best reaches in the game, making him skilled at spacing.
Horizontal recovery: His recovery move, Spinning Kong, offers notoriously good horizontal distance, making him an even tougher opponent to KO horizontally.
cons
Large: His size acts as a double-edged sword. Being one of the largest characters, Donkey Kong is extremely susceptible to combos and hits in general, especially with projectiles. (worth noting he has a hurtbox on his TIE!)
Weight: Again, his status as a super heavyweight acts as a double-edged sword as with his size. While it makes him extremely difficult to KO, it, along with the large hurtbox, makes him very easy to combo.
Falling speed: Falling speed is a double-edged sword, as it makes him even easier to combo.
Vertical recovery: While Spinning Kong grants amazing horizontal distance, it gains very little height, making Donkey Kong's recovery among the worst vertically despite being one of the best horizontally.
Featured Games
---
B Button Special Attacks
: Giant Punch - A chargeable punch. hold to charge it. If it is charged a little glowing light will be on your fist.
+/: Headbutt - Slams someone into the ground. A little dirt clod will appear and they will be stuck in it for a while.
+: Spinning Kong - Spin a round with arms out. Covers a pretty good horizontal distance. Can be used as a third jump to return to the stage.

Donkey Kong has the ability to carry his opponents on his back after grabbing them.
Fox
Learning Curve
Hard
Weight Class
Medium
Statistic
Value
Ranking
Weight
75
22nd
Avg. Fall Speed
152
2nd
Total Jump Height
6th
Grab Range
14th
Avg. Item Throw
6
2nd
Running Speed
2nd
Absolutely notorious in the competitive community, Fox is considered the single best character, hands down, to the point where he's even considered to be in his own tier at the very top as of the most recent tier list. Despite being quick, he's among the game's strongest, with his up smash and up aerial easily KOing even the likes of Falco, DK, and Falcon under 100% damage and being very easy to combo into. Also, his neutral game is outstanding, with moves like his rapid speed blaster and several low-lag, yet strong aerials even outside the up air (like n-air and b-air).
Most infamous, however, is his down special, the Reflector (popularly known as the shine). It is considered overall the single best move in the game for it's sheer high versatility, as it activates on frame 1 (meaning it activates in 1/60th of a second and is the fastest move in the game), semi-spikes the opponent with low set knockback, making it invaluable for scoring cheap, easy, near guaranteed gimps on characters at any percent (like Roy, Captain Falcon, Falco, and even himself), and can be cancelled with a jump as early as frame 4. Which, when combined with the previous point, makes it at ridiculously effective combo move (with it being able to infinite Marth and anyone heavier against a wall and also be used to waveshine (aka, hitting the foe with the move, jump-cancelling, wavedashing towards the foe, shining again, repeat process till you can smash attack them in the gut or shine spike them offstage). Plus, mutishining (short hopping and cancelling it with another shine), while ridiculously hard to do, can break shields in an instant. It really says a lot when your damaging hitbox is so overwhelmingly effective that you are very likely to forget that the move was meant to reflect projectiles in the first place.
If this guy has a single weakness, it's definitely how hard he is to master. With his multitude of insanely high tech skill needed to play him, as well as the insane amount of inputs needed to preform his most useful techniques, Fox is truly only infamous at the highest levels of play. Also, his recovery is kinda predictable despite it's range.
Advantages
Running speed: He is a very fast runner. Use this as an advantage.
Fast fall speed: He falls very fast, this will help with short hops and surviving vertical KOs.
Total jump height: Total jump height is really high so when blown away it will be quite easy to get back.
Up special move: This can be used to blow opponents away and inflict damage. It's not usually recommended as an offensive move due to its slow charge and usually predictable usage. Considered the best recovery Up-B in the game due to sheer distance and mixup potential. It covers less distance in the PAL version, however.
Left/Right special move: A really fast attack, can also help getting back into the stage. However recovery time may be a bit slow.
Normal special move: This is very good at inflicting damage, however it doesn't make the enemy flinch.
Down special move: Widely considered the absolute best move in the game, for good reason. This can reflect all projectiles, but is mostly used for it's set knockback semi-spike. It has ridiculous utility in KOing and comboing, detailed above.
Smash attacks: Most of Fox's smash attacks can give a very high chance of killing when the opponent reaches 100% (especially up smash)
Aerial attacks: Fox's aerial attacks are exceptionally powerful (special mention goes to his up aerial)
Disadvantages
Fast fall speed: He falls really fast which makes it hard for him to get back safely when blown from the stage, and makes him combo bait.
Easy to counter attacks: Some of his attacks like Left/Right or UP are easy to counter this makes him bad when trying to get back to stage.
Easily killed: Fox can be easily killed by a smash attack at around 80%.
Featured Games
---
B Button Special Attacks
: Blaster - A peashooter blaster with fast fire. It doesn't even stop someone from moving forward. Just use as they are approaching you because the 1-2% damage each shot does add up.
+/: Fox Illusion - A really quick dash in the direction you specify. You basically run through your opponent. Be very careful not to use this move near edges if you are a beginner, else you will suicide off the edge. This maneuver can also be used to dash back onto the edge after someone hits you off.
+: Fire Fox - You start flaming and then charge in the direction you specify. While Fox is charging, the attack can be aimed in any direction. Can be used as a third jump to return to the stage.
Ness
Learning Curve
Medium
Weight Class
Light
Statistic
Value
Ranking
Weight
94
11th
Avg. Fall Speed
103
14th
Total Jump Height
10th
Grab Range
25th
Avg. Item Throw
6.5
4th
Running Speed
20th
Hero of EarthBound/MOTHER 2, Ness is a young kid from Onett with psychokinetic powers (PSI), some of which he learned himself, some he learned from friends. He also carries an arsenal of baseball bats and yo-yo's which make powerful smash attacks. While the majority of people only know him through Smash Bros similar to Captain Falcon, EarthBound/MOTHER has a loyal fandom that adores his appearance.
Ness's tilt smash (

+

/

) can be used to reflect some projectiles, a little known skill. He also has Peach and Yoshi's DJC (double jump cancel), which gives him unique and varied combos. As always, his throws are strong, have varied uses, and back throw has tremendous knockback scaling, making it the single strongest back throw in the game at high percentages. His yo-yo glitch is also his best asset, as it can allow him to attack with near-limitless range on all his attacks.
But even that is not enough to salvage this character. He has multiple heavily crippling flaws, with the biggest being his awful range (including the second-worst grab range in Melee and very small hitboxes on his tilts), with his moves lacking the utility needed to make up, and even if he gets within attacking range, his KO-ing power is surprisingly weak (especially his smashes, as up and down smash are among the weakest in the game in spite of their versatility, and forward smash needs the sweet spot at the tip to have reasonable KO power). Lastly, in spite of his double jump and PK Thunder giving good distance, Ness has a very bad recovery, among the absolute worst in the game, as PK Thunder's ball will dissipate upon hitting the opponent and send him into helplessness, allowing characters to jump into the ball to intercept it wile taking negligible damage and knockback, and projectiles can do the job without damage inflicted onto the opponent.
Overall, in spite of his strengths, his crippling flaws overall leads to Ness being considered non-viable for serious play.
Featured Games
---
B Button Special Attacks
: PK Flash/PK Pulse - Hold down to charge a green flashy thing. You can move it slowly around using . Press to detonate it or just wait about 4 seconds for it to detonate at full charge by itself. Note that Ness says "PK Pulse" but the trophy description calls this move PK Flash.
+/: PK Fire - Useful attack that shoots a little red ball horizontally. If the ball touches an opponent, the opponent will burst into flame and be stuck there for about 2 seconds. In this time you can swing at them with the bat and they still won't move.
+: PK Thunder - A little ball of lightning you can control around the stage with the control stick for about 5 seconds, during which time Ness will stay still. When using this attack in the air, Ness will float in the air. If you guide the PK Thunder so that it hits Ness, Ness becomes a projectile and also this acts as a tricky third jump.
Projectiles absorbed by PSI Magnet
Laser blasts
Super scope blast
Fire flower (although not a thrown fire flower)
Charizard's fire attack
Cyndaquil's fire attack.
Staryu's swift attack.
Ice Climber's Ice Shot.
Pikachu's and Pichu's thunder jolt
Samus' charged shot
Fox's and Falco's blaster
Ness's (Ness can't heal himself using his own attacks) PK fire, PK Thunder, and PK Flash (or PK Pulse)
Zelda's Din's Fire
Bowser's Fire Breath
Star Rod's Star Attack
Mario and Luigi's Fire Ball
Dr. Mario's Pill
Kirby
Learning Curve
Easy
Weight Class
Light
Statistic
Value
Ranking
Weight
70
23rd
Avg. Fall Speed
96
21st
Total Jump Height
6th
Grab Range
7th
Avg. Item Throw
8.6
17th
Running Speed
17th
Kirby is a light character, so he flies far, but using his five jumps and Final Cutter, he can recover from a really bad fall. if you go to Flat Zone, hang by the edge and Inhale, then spit off your opponents.He also has creative and unusual throws and tilts, whuch can be taken advantage of with his surprisingly high grab range.
Unfortunate, these strengths are outweighed by a slew of devastating flaws that cripple him as a character. He is the (nearly) undisputed worst character in the game. Even when compared to the likes of Roy, Mewtwo, Zelda, and even Bowser, and Pichu, Kirby is still considered to pale in comparison.
Kirby's primary flaw is his nearly nonexistent approach, which is among the worst in Melee. His bad SHFFL, poor wavedash, laggy and predictable dash attacj, poor range in general, slow dashing speed and very poor aerial speed (it's the 3rd worst) and no usable projectiles, Kirby struggles greatly with approaching just about anyone, especially people with strong pressure games like Marth and Falco.
Even if Kirby makes it to the opponent, he still struggles with combing, in large part thanks to his subpar aerials except for back and up air (the latter being his only reliable KO move that isn't laggy, inferior to similar moves, short ranged, or all of the above), and his only combo is the Fence of Pain (a blatant rip-off of Jigglypuf's Wall of Pain that, like all ripoffs, is inferior to the original, this time due to his air speed).
Also, his signature (Kirbycide) is very risky, and usually isn't worth the risk. Up throw requires specific placement at the edge of a stage, and Kirby loses always in last-stock scenarios. Forward and Back throws always result in a win for Kirby if used in a last-stock scenario, but are the only throws in Smash that can be broken out of (and really easily, too)
And lastly, his recovery is really bad despite his multiple midair jumps, because of his air speed, and Final cutter granting bad recovery range. Overall, Kirby was unarguably the most severely nerfed character in the transition (And possibly the most severely nerfed character in the series)
---
B Button Special Attacks
: Swallow: Swallow an opponent. You can walk around slowly with them in their mouth. They can get out by rapidly moving the Control Stick around. When you spit them out, you copy whatever their power is and it is assigned to this attack. To get rid of the copied attack, press the taunt button. Press the to fire you opponent out as a star in the direction you are facing.
+/: Hammer: Swing a hammer left or right. If used in the air, you will spin it 360 degrees around Kirby in the direction he is facing from top down in front of his face (facing right will spin clockwise).
+: Final Cutter: Slice a sword up and come back down. When you land you send out a little shockwave in the facing direction that can do damage; this shockwave counts as a projectile. You can attack someone three times if you hit them on the way up. Can be used as a third jump to return to the stage.
Ice Climbers
Learning Curve
Hard
Weight Class
Light
Statistic
Value
Ranking
Weight
88
15th
Avg. Fall Speed
128
4th
Total Jump Height
1st/23rd
Grab Range
17th
Dodge Rating
17/27
14th
Avg. Item Throw
6.9
10th
Running Speed
19th

A special duo character. Known both for being the only "two in one" characters and the only characters to be cut after appearing in multiple installments in the series.
About them as characters. You control one of them while the other, AI-controlled, attempts to follow. You always do the same attack. If the AI partner dies, you can still do your attacks, but their effect is weakened. The Ice Climbers are able to pick up one item each. Their duo nature has a far greater impact than you'd believe. With two attacks hitting the opponent at once, they can build up damage, combo and KO like crazy, racking up damage insanely fast in the hands of a true elite. With very low traction (the second lowest in the game), they also have the luxury of being one of the three with wavedashes far above the rest (the other two being Mewtwo and Luigi), which, combined with their disjointed attacks and a fairly effective projectile with their ice shot.
The benefits of their two-in-one combat style are most noticeable with their grab game, which leads into the hugely known "desynch" tatic, which allows you to briefly control both separately. The easiest way to do this is by grabbing the opponent with Popo, allowing you to pummel the opponent with Nana while Popo is pummeling them. This in turn forms the basis of a outrageously hard (to the point where even the best of the best can't preform it consistently) technique, referred to as Wobbling. It is the single most powerful technique in not just their arsenal, but the entire game if mastered. It keeps the opponent stunned so that they cannot escape Popo's grasp, racking up damage for as long as you please, before ending with an attack of your choice to knock 'em out of the park.
They do have their fair share of flaws, which prevent them from reaching the highest tiers. First and foremost, they are severely crippled when one of them is KOed, losing all their strongest combos (though a solo climber still has a strong combo game) and techniques, having considerably less effective specials, and a solo climber's recovery is the worst in the entire series, even when compared to Little Mac's. Many of the absolute best characters in the game have moves that can separate them easily (like Fox's highly versatile shine, and Peach's forward aerial). They also have a weak aerial game due to poor aerials as a whole and the second-lowest air speed in the game. Similar to Luigi, they rely heavily on wavedashing to approach, increasing the chances of them airdoging accidentally, leaving them vulnerable.
Featured Games
---
B Button Special Attacks
: Ice Shot - Both of you shoot little ice block things that slide along the ground until they hit something. Can easily keep slow and large characters at bay. The ice is very fragile and can be attacked to be broken.
+/: Squall Hammer - Swing little hammers around and twirl in a direction a bit. If there's only one of you, then you have only one direction of attack.
+: Belay - Popo throws Nana, who then yanks Popo further upwards. Obviously, this only works if Nana has not already fallen. This inflicts considerable damage if an enemy is in the way. Can be used as a third jump to return to the stage.
+: Blizzard - You both breathe out an icy wind in opposite directions. If hit, the opponent is frozen in a large ice block if your opponent has taken certain amounts of damage (it varies from character to character). Obviously, if there's only one of you, you only attack in the direction you are facing.
Samus Aran
Learning Curve
Hard
Weight Class
Heavy
Statistic
Value
Ranking
Weight
110
3rd
Avg. Fall Speed
95
23rd
Total Jump Height
17th
Grab Range
1st
Avg. Item Throw
6.6
9th
Running Speed
16th
Samus Aran is the galaxy's most famed and ferocious bounty hunter who, ever since the death of her parents, has sought for revenge. She started off her long-standing career by destroying the Mother Brain (and then shocked the world upon the reveal that this cold-blooded, take-no-prisoners warrior was actually a girl). Since then, she has been a constant aid to the Galactic Federation in their eternal fight against the Space Pirates, a groundbreaking example of self-reliant, powerful females in gaming, and a long-standing symbol of Nintendo.
In Smash, Samus is part of The Original 12, having appeared in every game in the series. And out of all of them, Melee is the only one where she isn't considered largely subpar compared to the rest of the cast. She's been known for forgetting just about all her equipment at the start of nearly every single mission she goes on. Smash isn't any different; she has only a small portion of her famed assortment of weapons. That being said, she still has more ranged options than just about every other character in Melee, keeping her role from Smash 64 as a long-ranged fighter that relies on zoning out the opponent much like Link (but she's significantly more effective than in said game). Her projectiles (the Charge Shot, Missile, and Bomb) are all highly versatile; they greatly boost her comboing, zoning, and KOing power. Aside from that, she is a heavyweight thanks to her Power Suit, making her hard to launch. This is further backed up by her Bomb Jump, her midair Grapple Beam, her floatiness as a whole (highly unusual for a heavyweight), and wall jump, which, combined, not only give her a top tier recovery, but makes her extremely hard to KO horizontally. Finally, Samus also has access to multiple techniques exclusive to her, such as the Super Wavedash and Extended Grapple, that aid her approach on opponents.
Some of her strengths also work against each other; most particularly her floaty nature. While it makes it easy to get back onstage, it also makes her susceptible to getting KOed off the top (even with her heavy weight). She is also an easy target for combos as a whole due to said weight in tandem with her large stature, while her own combo ability is very poor in spite of the significant buffs it got when transitioning from the first game. Her main combo starters are her throws, which suffer from being hard to use as a result of her slow and laggy grab (even though it is the longest ranged grab in Melee).
All in all, though, Samus is a large and mighty tank, with some power and great range to both keep her in long after most others are dead, and still put up a valiant fight. If you're looking for a character that will combine the best from heavyweights and floaties, look no further than the deadliest bounty hunter Nintendo's had to offer.
Featured Games
---
B Button Special Attacks
: Charged Shot: Samus' trademark weapon. Hold to charge it; you can release it at any charge level. If it is fully charged you store it automatically and can let it off any time; note that your gun will shine and give away the fact that you are charged. While charging, you can press left or right to roll left or right to avoid attacks. You then keep charging after the roll. If you get hit with while charging, you lose the charge. While charging, press / to save the charge at its current level. At full charge, it can easily KO under 80%.
+/: Missile: Send a fairly slow homing missile that doesn't go as far or do as much damage. Smash the direction to send a non-homing missile that is faster and more powerful.
+: Screw Attack: Spin around and move up. Anyone touching you while doing this will be trapped in the attack. Can be used as a third jump to return to the stage.
+: Bomb: Turn into the morph ball mode and drops the little bombs like in the Metroid games. You can also bomb jump slightly. Useful for crowd attacks and floating for long distances. Can be used to preform the Super Wavedash, a frame-perfect physics exploit that takes Samus faster and farther than even Luigi's wavedash (as far as Final Destination) To do it, drop a Bomb. Hit the opposite direction you want to move in when she hits the ground (on frame 41) then hit the direction desired on the 42nd frame. It's extremely hard to do, but you will definitely gain a lot of respect if you are able to pull this off in a match.

Samus has a special move where she can extend her grapple move to 3 times the normal size (this can only be done in the NTSC version) perform by:
rotating the in a counter-clockwise direction
simultaneously tapping the button rapidly if performed correctly when you use her grab move the grapple will be able to reach opponents much farther away.
Link
Learning Curve
Easy
Weight Class
Heavy
Statistic
Value
Ranking
Weight
104
6th
Avg. Fall Speed
117
8th
Total Jump Height
20th
Grab Range
2nd
Avg. Item Throw
6.9
8th
Running Speed
23rd
If for any reason Mario stopped being Nintendo's mascot, Link would most definitely be the person who would take his place. As the second most popular Nintendo protagonist of all time, Link not only likes to wear green, but as the wielder of the Triforce of Courage, he has been reincarnated for millennia to protect the town of Hyrule (and sometimes other lands) from monsters, save Princess Zelda, trounce his eternal nemesis, Ganon, and most impressively, he's done all this without saying a single word.
As a member of the Original 12 in Smash, it's no surprise Link is part of the roster alongside Nintendo's other all stars in Melee. Much like Samus, Link maintains his role from Smash 64 as a long-ranged fighter that relies on zoning out the opponent to make up for his poor speed. He a rather unique character in Melee; though he isn't quite as sluggish as he was in Smash 64, Link remains a slow mover. He makes up for it by maintaining more long rang options that nearly every other character, such as his bombs, bow, and boomerang, which all posses a wide variety of uses and grant him options for most situations, with boomerang and bombs in particular being great for starting and extending combos. His arsenal doesn't end with his projectiles; his Master Sword is not for show, and it grants Link some of the best ranged (albeit sluggish) moves in the game, optimizing a zoner and keep-away playstyle; unlike Marth and Roy, Link's sword has only one hitbox, making overall gameplay as Link quite a bit simpler. Like his younger self, Link carries his own personal shield in addition to the normal one; the Hylian Shield can block projectiles if you keep the control stick neutral. Link's Hookshot grants him the second longest grab range in Melee (though his actual throws are only 50/50) and in midair, can be used as an alternative to a third jump, by doing a hookshot on a wall. Where Link really shines is in aerial combat; not only does he move pretty fast in the air, but he has great aerial attacks with a wide variety of applications.
While some of his crippling flaws from the first game were addressed, he still suffers from noticeable weaknesses. He is still pretty fast for a character of his strength, weight and range, but against faster characters, especially ones with reliable projectiles, he still has a hard time keeping up with them. His weight and falling speed help him eat vertical kill moves, but on the flipside, he also struggles to make it onstage if launched far enough, especially with his poor aerial jump and Spin Attack only granting moderate distance at best. This combination of attributes also makes him very vulnerable to consecutive attacks and combos that can trap you until you take extreme damage, meaning that when trying to combo or go for the kill yourself, Link must tread very carefully, lest he lose a stock himself.
Link has certainly had a wide variety of ups and downs in Smash history. Here, he's certainly improved from his poor showing in Smash 64, but all in all, he's considered an average to below average character in comparison the rest of the gang. His playerbase is small, but passionate, and have managed to prove that in spite of his flaws, he can be a threat in the right hands, and he does have his fair share of strengths, but while there are much worse choices to choose from, there are also plenty of better choices. Link is best fit for you if you like aerial combat, playing keep-away, and using your noggin to come out on top.
Advantages
Many projectiles: Link has many projectiles like the boomerang, the bow and arrow and the bombs. These can be useful for many things. Like the bomb can be used to save himself if he's carrying one offstage.
UP special move: Link's UP attack is extremely powerful if used correctly. This is also very useful when getting back to stage. In the NTSC version, a late hit knocks the opponent on a vicious semi-spike angle, pretty much ensuring your opponent's death if he/she is offstage. This was changed in PAL versions, but it's good power and long range still makes it effective at keeping foes from recovering.
: When rapidly clicking link is pretty much defended from all attacks coming from the front, however from the rear or the top he is very vulnerable.
Smash attacks: Link's smash attacks are very powerful, all of his smash attacks can produce more than 1 hit.
Grapple: Link's grapple can be used to grab, to do damage or to even save yourself.
Shield: Link's shield can block many projectiles.
Falling speed: Link falls quick so when short hopping makes it easier.
Disadvantages
Slow attacks: Link is very slow at attacking. This can make him easier to hit.
Slow recovering: After an attack It takes a while before he can attack again. This makes him even easier to hit.
Slow running: His running speed is very slow.
Falling speed: Link falls pretty quickly so when saving this makes it harder!
Featured Games
---
B Button Special Attacks
: Bow: A chargable silver bow and arrow. The more you charge it the farther it goes. It is affected by gravity and will arch depending on its initial velocity. Hold to charge up the arrow's velocity.
+/: Boomerang: An aimable boomerang. Press up or down to aim it slightly. It can hit an opponent twice(Obviously). You can also hit someone behind you if you time your jump right.
+: Spin Attack: Spin the sword around. Used on the ground, you stay in place. In the air, you rise up. The final spin is the most powerful. Can be used as a third jump to return to the stage.

Link's hookshot (grab/

) can be used to grab onto walls when he's in the air.
L-Canceling the

+

attack: If Link misses with the

+

attack, his sword sticks in the stage and takes a relatively long time for link to pull it out. If you press L exactly when the tip of his sword touches the ground or platform, then the animation for pulling the sword out of the ground runs twice as fast, allowing you to recover more quickly.
Zelda
Learning Curve
Easy
Weight Class
Light
Statistic
Value
Ranking
Weight
90
12th
Avg. Fall Speed
92
25th
Total Jump Height
11th
Grab Range
9th
Avg. Item Throw
10
18th
Running Speed
26th
Every hero needs a dame to come home too. Link is no different. Zelda, the princess and usually soon-to-be queen of Hyrule, is the wielder of the Triforce of Wisdom. Oftentimes a damsel in distress that Link needs to rescue (her captor usually being the evil Ganon/Ganondorf), and just like Princess Peach, spends much more time in other castles than she does in her own, and sometimes doesn't even need to leave her castle to get put into a vulnerable position. However, she has also proven she can hold her own if need be; she has sometimes played a role in the final battle of a Zelda game, helping Link with defeating the final boss (usually with her Light Arrows), and regardless of current condition, remains Link's closest ally in their struggle against evil. Just like Link, there is not one specific Zelda across the series; rather, Zelda has been reincarnated for millennia.
Super Smash Bros Melee is Zelda's first playable appearance in any official Nintendo game (not counting the CD-i games). Which makes it all the more unfortunate that she is a very underwhelming fighter overall. She does have her fair share of strengths; despite her light weight, her attacks generally fit under the slow, but powerful archetype, with moves like her versatile up tilt, her up and side smash, and most notably, her Lightning Kick (which is both her forward and back air, so she doesn't need to turn around to kill with it) being powerful KO moves. Many of her attacks also possess hitboxes that cannot clash with opposing hitboxes, which complements the average range of her moves and allows her to cancel out opposing attacks with her own with proper prediction.
However, while she lacks any other significant strengths, she has plenty of significant weaknesses. The most crippling of these is her terrible speed; she runs slowly (her run speed is tied with Jigglypuff's for the slowest in the game), she attacks slowly, she falls slowly, she does basically everything slowly, and as a result, cannot attack or counterattack with any real efficiency. Wavedashing does not help her, as she has the absolute shortest wavedash in the game (tied with Peach) due to a bad blend of attributes. While she can't fight efficiently close up, she cannot fight from afar to make up, as her projectile, Din's Fire, is utterly useless and is so slow and predictable that will never connect on any decent opponent (and doesn't even provide any kill power, combo potential, or anything to make it worth the risk), and is all in all considered the worst projectile in Melee and one of the worst moves in possibly the series. She doesn't fare much better in the air; while her air speed is rather swift, she can't jump high, she falls slowly, and her aerials are rather unwieldy and risky to use, with only her Lightning Kicks being worth the reward. Even her KO ability can be rather inconsistent; you can easily escape her forward and up smashes with SDI, making them lose their usability, and her up aerial is slow and cannot hit grounded opponents.
All in all, Melee started a brutal trend for Zelda in Smash. Her strengths are few and far between, and her weaknesses are simply much more prominent. Worst of all, her alter-ego, Sheik, completely outclasses her, being much faster, being a better fighter up close and far away, and even ironically having much more reliable kill setups in spite of technically being much weaker. So essentially, there is pretty much no reason to use Zelda over Shiek, ever; the only time that you're likely to see Zelda in Melee is when Sheik player's are deep offstage and transform into Zelda to take advantage of her better recovery, but only as an absolute last resort.
Featured Games
---
B Button Special Attacks
: Nayru's Love: Zelda conjures a spinning field of jagged ice crystals to slice any adjacent enemies. This move can be performed in the air and on the ground. It hits repeatedly and has nearly no knockback. This attack is useful for area denial, when Zelda is directly adjacent to one or more opponents. Use it to get Zelda out of trouble when she's in the fray. This attack can deflect distance shots back at opponents
+/: Din's Fire: Zelda forms a glowing ball that accelerates away from her, disappears for a short instant, and explodes in a small fireball. The player can control the motion of the ball along the vertical axis, but its horizontal motion is strictly linear acceleration. The player must hold until the ball reaches a desired position, at which point it explodes after a slight delay. It lights the opponent on fire, has a small radius of effect, and causes minimal knockback. Use this attack to annoy unsuspecting foes at range. This requires a degree of anticipation, as the player must stop the ball about one and a half body widths in front of a moving opponent.
+: Farore's Wind: Can be used as a third jump to return to the stage. The player can control Zelda's destination by pressing a direction while the animation executes. This maneuver does not affect Zelda's fall trajectory when performed in the air, and removes the player's air control ability while the animation completes. Zelda also cannot teleport through solid objects. However, Zelda can often teleport completely across some playfields with this maneuver when the path is clear. After teleporting, the player loses all control of Zelda except for her falling trajectory. Thus, she is completely vulnerable after teleporting and falling. The attack does no damage.
Sheik
Learning Curve
Medium
Weight Class
Medium
Statistic
Value
Ranking
Weight
90
12th
Avg. Fall Speed
118
6th
Total Jump Height
9th
Grab Range
8th
Avg. Item Throw
5.7
1st
Running Speed
3rd
Featured Games
---
B Button Special Attacks
: Needle Storm: Hold for more needles, release to throw. Needles shoot straight forward when on the ground, but angle down and forward when shot in the air.
+: Vanish: Can be used as a third jump to return to the stage. Works like Farore's Wind but does damage.

Zelda is easier to control and has good attacks. Sheik is very fast and is easy to lose control with, but she has a very wide range of attacks and is probably the better of the two.
Hidden Characters
[
edit
]
There are a total of eleven secret characters to unlock. Each character has two ways to be unlocked; one way is unique while the other involves you playing a certain number of Versus Mode matches. You can unlock any character by doing either. You don't have to do both. Special Mode and quitted matches don't add up to your VS Mode match total.
The secret characters are listed in order of how many VS. Mode matches it takes to unlock them. To view how many VS. Mode matches you've completed, go to Data: Melee Records: Misc. Records. In the seventh row will be "VS. Play Match Total."
Jigglypuff
Learning Curve
Medium
Weight Class
Light

Jigglypuff is the first character you'd unlock in the original Super Smash Bros., and will probably be the first one you'll unlock in this game.
A pink Pokémon, Jigglypuff is able to inflate itself like a balloon and thus float very high. A generally underestimated character, Jigglypuff does have a variety of powerful moves and combos at its disposal.
How To Unlock
Complete Classic Mode or Adventure Mode once with any character (except Mario unless Dr. Mario is already because you get Dr. Mario) with or without using a continue.
Play 50 Versus Mode matches.
---
B Button Special Attacks
: Rollout: You spin around in one place and start sparkling. When you let go, you charge out really fast and if you hit anyone at full charge, its almost a definite KO. If you miss, you may fly off the stage. The powerful lateral distance makes it a reasonably good move on
+/: Pound: A punch. Used in the air, it provides lateral motion. You can use this between every little mini jump that jiggly puff does to gain significant horizontal distance.
+: Sing: You sing and anyone in the immediate vicinity falls asleep. You are then free to attack them while they are asleep. Since the target will sleep for the same amount of time regardless of how close you are to finishing the song, this move is optimized when used as a trap.
Techniques
[
edit
]
JUMP ATTACKS Jigglypuff loves being in the air, and her attacks are far more effective when she is jumping. Plus, with six jumps(counting the initial one off the ground), she can hit the opponent a lot while floating around them.
Dr. Mario
Learning Curve
Medium
Weight Class
Medium
Statistic
Value
Ranking
Weight
100
8th
Avg. Fall Speed
101
15th
Total Jump Height
26th
Grab Range
21st
Avg. Item Throw
6.5
4th
Running Speed
12th
Dr. Mario is an almost exact clone of Mario, but because he's so easy to unlock you probably won't be bothered too much by that. He starred in the puzzle game Dr. Mario. Slightly more powerful than Mario (but contrary to belief, not slower).
How To Unlock
Complete Classic Mode or Adventure Mode with Mario without using a continue. However if you don't have Jigglypuff unlocked already, doing so will unlock her first, and you'll have to do it again to unlock Dr. Mario.
Play 100 Versus Mode matches.
---
B Button Special Attacks
: Megavitamins - Red/white pills that bounce fairly high and do damage when they hit stuff.
+/: Super Sheet - Works like Mario's Cape.
+: Super Jump Punch - Works like Mario's Super Jump Punch. Can be used as a third jump to return to the stage.
+: Dr. Tornado - Works like Mario's Tornado.
Pichu
Learning Curve
Easy
Weight Class
Light
Statistic
Value
Ranking
Weight
55
26th
Avg. Fall Speed
107
13th
Total Jump Height
4th
Grab Range
24th
Avg. Item Throw
10.4
20th
Running Speed
6th
Pichu is possibly one of the weakest characters in the game and is a clone of Pikachu. It takes a lot of effort to unlock it the unique way, so doing the considerably easier VS. Mode mission may be preferred for such a weak character.
Pichu is the pre-evolved form of Pikachu, and therefore, has very similar attacks. Pichu's major advantage is that he is a smaller target and a little quicker. Unfortunately, any electric attacks will damage Pichu a little bit, which checks the fact that they mostly hit harder than Pikachu's. The main Pichu strategy is to avoid jumping into close combat, and to instead use Pichu's speed to focus on the collection and optimization of items on the field.
How To Unlock
Clear Event Match #37: Legendary Pokémon. Note that to even reach this event match, you'll have to complete all 30 previous event matches and have Jigglypuff, Falco, Young Link and Luigi already unlocked.
Play 200 Versus Mode matches.
---
B Button Special Attacks
: Thunder Jolt: Pretty much the same as Pikachu's, except it damages Pichu.
+/: Skull Bash: can be charged up further than Pikachu's counterpart move, meaning more distance and damage dealt.
Falco
Learning Curve
Hard
Weight Class
Medium
Statistic
Value
Ranking
Weight
80
20th
Avg. Fall Speed
159
1st
Total Jump Height
4th
Grab Range
10th
Avg. Item Throw
6
2nd
Running Speed
11th
Falco is another member of the StarFox team and a clone of Fox in terms of moves, but with some important differences (including the difference in speeds, lasers, reflector properties, and distance gained by recoveries) mostly caused by higher power and lower speeds.
One noticeable difference in the two space pilots, is their aerial down

. Falco's performs one of the greatest Spike's (according to the Smash community). Whereas Fox's does a multi-hitting attack, and can only perform a (weak) spike if only the first of many attacks hit.
How To Unlock
Clear the 100-Man Melee with any character.
Play 300 Versus Mode matches.
---
B Button Special Attacks
Marth
Learning Curve
Hard
Weight Class
Medium
Statistic
Value
Ranking
Weight
87
16th
Avg. Fall Speed
117
8th
Total Jump Height
14th
Grab Range
4th
Avg. Item Throw
10.9
22nd
Running Speed
5th
Marth is a character from the previously Japanese-only series Fire Emblem. All his moves involve his sword (except his grabs) and he speaks Japanese.
Marth relies on hitting the enemy with the tip of his blade to maximize damage. Despite his lack of long range attacks, Marth remains a top tier character because of his domination in close combat.
How To Unlock
Use all fourteen of the initial non-secret characters in Versus Mode at least once or beat Classic/Adventure Mode with original 14 characters.
Play 400 Versus Mode matches.
Pros
Range and tip: One of the things Marth is well-known for is his tipper sweetspots.
---
B Button Special Attacks
: Shield Breaker: Can be charged to do good damage.
+/: Swords Dance: You can hit different directions with to do up to four different moves. If the final move is a +, it is a Meteor Smash.
Young Link
Learning Curve
Medium
Weight Class
Statistic
Value
Ranking
Weight
85
17th
Avg. Fall Speed
117
8th
Total Jump Height
18th
Grab Range
3rd
Avg. Item Throw
6.9
10th
Running Speed
7th
Young Link is unsurprisingly a clone of Link, except slightly more agile and less powerful.
How To Unlock
Complete Classic Mode or Adventure Mode with ten different characters. Winning with Link and Zelda/Sheik was believed to be required, but this is not true.
Play 500 Versus Mode matches.
Advantages
Speed: More agile than Link.
Walljump: Can walljump.
Disadvantages
Can't grab near walls: The hookshot can't be used near walls, so if an enemy is near a wall, you can't grab him/her.
Weaker than Link: compared to Link, most of Young Link's attacks are weaker.
B button special attacks
Ganondorf
Learning Curve
Easy
Weight Class
Heavy
Statistic
Value
Ranking
Weight
109
4th
Avg. Fall Speed
118
6th
Total Jump Height
19th
Grab Range
19th
Avg. Item Throw
7.2
14th
Running Speed
21st
Ganondorf is very slow and powerful, but otherwise he is a clone of Captain Falcon. He is the only clone to not be part of the same series as the one he is cloned from. He is connected to the Legend of Zelda cast by being one square above Young Link, making him the only character to be joined to his party by columns.
How To Unlock
Clear Event Match #29: Triforce Gathering, which features Ganondorf.
Play 600 Versus Mode matches.
---
B Button Special Attacks
: Warlock Punch: Similar to Captain Falcon's Falcon Punch, but slower and with even more power.
+/: Gerudo Dragon: Ganondorf flies forward and uppercuts his opponent into the air. An easy combo for new players is to follow this up with a Dark Dive.
+: Dark Dive: A recovery move similar to Captain Falcon, where the range is short but if getting in contact with an opponent, does a lot of damage and lets Ganondorf do another 3rd jump.
Mewtwo
Learning Curve
Hard
Weight Class
Light
Statistic
Value
Ranking
Weight
85
17th
Avg. Fall Speed
97
19th
Total Jump Height
2nd
Grab Range
12th
Avg. Item Throw
11.6
25th
Running Speed
17th
Mewtwo is the only cloned Pokémon. With dangerous attacks, Mean Strategies, Psychic abilities, Deadly combos, and a scary appearance. However, Mewtwo has a fatal weakness! Because he spends most of his time floating, he's sent flying further then usual, to avoid this; rely on confusion, then Shadow Ball (tap

, charge to desired power, then

again). Only Pros are capable of doing this on the edge of the arena as Shadow Ball will Recoil.
Combos and tips
Hit your opponent up slightly, then teleport above them, (and if necessary, jump a couple of times first.) then smack them down with +. This will then send them crashing down on to the arena.
Like other characters with a stationary rapid attack, Mewtwo can spam to hit enemies over and over again. This attack has a slight range to it, and can be used to corner effectively.
How To Unlock
Play a total 20 hours of Versus Mode. To see how long you've played VS. Matches, go to Data: Melee Records: Misc. Records. In the fifth row will be "VS. Play Time."
Play 700 Versus Mode matches.
Note: With four people playing, only five hours of play time are required because each player's play time is added to the total. Therefore, theoretically, it is possible to battle three other people in a five-hour battle and still unlock Mewtwo. Also, it is important to realize that only time spent battling counts toward play time.
---
B Button Special Attacks
: Shadow Ball: Works very similar to Samus's Charge Shot. Press to begin charging a ball of dark energy and press again to fire. Press / or / to save the charge. You can continue charging later.
+/: Confusion: Mewtwo whirls the opponent in front of him and lets the opponent hit the ground. Does mimimal damage. Can also be used to reflect projectiles.
+: Teleport: A move similar to Zelda's Farore's Wind but much quicker and shorter range. Tilt the control stick during the animation to control the direction in which Mewtwo reappears. Does no damage, but can be used to dodge attacks and as a recovery move.
Luigi
Learning Curve
Medium
Weight Class
Medium
Statistic
Value
Ranking
Weight
100
8th
Avg. Fall Speed
95
23rd
Total Jump Height
13th
Grab Range
15th
Avg. Item Throw
6.5
4th
Running Speed
22nd
At first glance, Luigi may seem like a mere clone of Mario, but any advanced player will learn how unique he really is.
Some players think that Luigi is the most fun character in Super Smash Bros Melee. Luigi tries to use his grabs, the fire punch, and the green missile (side-

) to make the other characters seem boring.
How To Unlock
Fight him in the Mushroom Kingdom stage of Adventure Mode with any character (except Mario unless Dr. Mario is unlocked already because again you get Dr. Mario). To do this, you must finish Part 1 of the Mushroom Kingdom stage with the last large number of the time limit being a 2. For example, 1:52:48. This will make him replace Mario in the following fight. Beat Luigi and Peach under a minute. Then complete the Adventure Mode without using a continue.
Play 800 Versus Mode matches.
---
B Button Special Attacks
: Fireball: A green fireball like Mario's, except it's not affected by gravity. It will go straight until it hits something.
+/: Green Missile: Hold down to charge up a headbutt like attack. At random times, you will go farther and make a more powerful hit, but you may fall off of the arena.
+: Super Jump Punch: If you are physically touching another character when initiating this attack, you set the character on fire and it does more damage. Can be used as a third jump to return to the stage.
Roy
Learning Curve
Weight Class
Light
Statistic
Value
Ranking
Weight
85
17th
Avg. Fall Speed
128
4th
Total Jump Height
20th
Grab Range
5th
Avg. Item Throw
20.9
22nd
Running Speed
8th
Roy is a clone of Marth, but with a few differences, the most obvious of which is how his sword burns his opponents and his

can be charged into a giant explosion. He is significantly inferior to Marth due to being slower and having laggier attacks, with no increase in power to make up for it.
How To Unlock
To unlock Roy, you must beat Adventure or Classic mode as Marth.
Play 901 Versus Mode matches.
Advantages
Speed: Roy is one of the fastest characters in the game, allowing him to outrun others.
Range: As you would expect from a swordsman, Roy has amazing reach with his Binding Blade. Use this to your advantage for spacing.
Fast-falling: With the fast-falling speed, Roy is moderately tough to KO through the ceiling (slightly tougher than Marth despite Roy being lighter), and in addition to that, it offers him among the best SHFFLs (short hop fast-fall l-cancel) in the game, offering him a decent approach.
Blazer: You can aim this attack in different directions. You can make it more horizontal than vertical if you wish or more vertical than horizontal. You can use a reversed version of this on certain stages that will OHKO the lightest characters in the game (including Kirby, Mr. Game & Watch, Jigglypuff, and Pichu).
: Very useful edge guarding technique. This can (because of his long sword) stop any character from using their UP B special move when trying to get back into the stage.
Side smash: This is a very good attack, this can sometimes kill at 40%.
DED combo's: This is very useful, this can be used to blow an enemy away, to inflict damage, and to help save yourself when blow off the stage and to kill.
Counter: A very useful attack, can be used to counter UP 's (except for Capt. Falcon and Ganondorf's, since their are grabbing)
Grab: Roy's grabs are useful for setting up combos and follow-ups that can be used to his advantage against lighter characters.
Disadvantages
Atrocious comboing: Due to Roy's attacks being hard to land as a result of their poor hitbox placements, Roy's comboing game is far below average, especially in the air.
Susceptibility to combos and punishes: Even though he is light, he is very easy to combo due to his fast falling speed. Additionally, his laggy attacks are hard to recover from and just make him easy to punish by surprise.
Lacks power and reliable finishers: Aside from his abominable comboing game, he almost lacks strength and finishing moves, relying only on his side smash as his primary KO move.
Lackluster recovery: Roy has one of the worst recoveries in the game, even if the Double-Edge Dance is used to aid it.
Roy's flaws unanimously overpower his strengths, making him considered low-tier in the metagame.
---
B Button Special Attacks
: Flare Blade: Very similar to Marth's Shield Breaker, but more powerful and with a longer charge time. Hold to charge Roy's blade and release to unleash power. Fully charged, it is a powerful explosion that can one-hit-KO even the heaviest characters.
+/: Double-Edge Dance: Identical to Marth's Dancing blade. Press repeatedly for a combo. The direction of the attacks can be controlled with .
+: Blazer: An upward strike of the sword which sets enemies on fire. Unlike Marth's Dolphin Slash, this move is unusual in which knockback is based completely on the foe's weight and is not affected at all by damage.
Mr. Game and Watch
Learning Curve
Weight Class
Statistic
Value
Ranking
Weight
70
23rd
Avg. Fall Speed
101
15th
Total Jump Height
11th
Grab Range
18th
Avg. Item Throw
11.1
24th
Running Speed
14th
Mr. Game & Watch is based on the entire Game & Watch series and is considered the final secret character in the game, as there is no way to unlock him without first unlocking all other characters. Once you get him, you'll be able to easily earn Flat Zone. Mr. Game & Watch relies on his especially fast moves and the sense of chaos instilled in the opponents when in the arena.
How To Unlock
Complete Classic Mode, Adventure Mode or Target Test with all other 24 characters.
Play 1,000 Versus Mode matches.
---
B Button Special Attacks
: Chef: Shoots bacon. Both the pan and the bacon do damage.
+/: Judgement: Mr. Game & Watch will swing a hammer. A number 1-9 will appear as well. This tells you what attack he will use.