Jump to navigation
Jump to search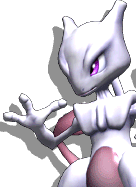 Basic Techniques
[
edit
]
Standard Attacks
[
edit
]
| Button(s) | Description/notes |
| --- | --- |
| | Mewtwo doesn't really jab or punch, he just put's his hand out with a bit of purple lighting, causing some damage. |
| | Mewtwo starts waving his hand and small bursts of Shadow flame appear (minimum 8 bursts). If you keep pressing , Mewtwo can continue this attack indefinitely. |
| Forward + | Mewtwo swipes his tail at the enemy. It is a very quick attack and can be used consecutively without interruption. |
| Dash + | Mewtwo uses both his arms to punch out and project a dark flame burst while still sliding forward. |
| + | Mewtwo swipes his tail in a full circle while crouching. It is a sweeping attack, and knocks enemies up slightly. However, it cannot hit enemies behind him. |
| + | Mewtwo flips himself over and hits any enemy in front of or above him (primarily above). |
| Smash Forward + | Mewtwo uses both of his arms to push out and project a dark flame burst. This move is powerful at its "sweet spot" (the center of the burst) and has a large range. |
| Smash + | Mewtwo will point to the ground and a small explosion will occur where he pointed. This is not a sweeping attack and will only cause damage to in front of Mewtwo. It is the only down smash in the Ground that does not hit enemies both in front and behind. Compared to his forward smash it has a shorter range but does not have a sweet spot (or, in this case, an area of weaker damage). |
| Smash + | The way Mewtwo poses for this move is actually used for one of his Smash Trophies. He raises his left hand up and a small swirling vortex appears which can slightly juggle an enemy if caught in it. There are 7 hits that this moves causes, the last one being the most damaging and the only one that actually knocks you away. |
| (While lying down) | Mewtwo gets up and does a little spin, which shocks anyone on both sides who comes into contact with it. |
| (While hanging off a ledge) | Mewtwo flips back onto the ledge, while doing an attack with his tail. |
Aerial Attacks
[
edit
]
| Button(s) | Description/notes |
| --- | --- |
| | A web of electricity is generated around Mewtwo and if anyone is near enougth, they are caught in it. Directional influence can be used to break away from this, but it always hits at least once. It causes a max of up to 9 hits and 18% damage, which can degrade to 9% damage if it is used continually. |
| Forward + | Mewtwo swipes his hand with a touch of dark flame, sending the enemy sky high at high percentages, and just high enough to do it again at low percentages. This move comes out very quickly, but has an awful range, so timing is important. |
| Back + | Mewtwo swings his tail behind him. Good range and startup time, poor damage, knockback, and lag. |
| + | This is Mewtwo's meteor smash. Mewtwo backflips, swinging his foot downwards. This is not a very powerful attack. It does a maximum of 14% and is rather slow. |
| + | This is just an airborne version of the + move on the ground, except in the air. It does the same amount of damage. |
Handling a Weapon
[
edit
]
Home-Run Bat, Lip's Stick, Fan, Beam Sword, Star Rod.
Mewtwo never physically touches an item, they all merely float near him.
| Button(s) | Description/notes |
| --- | --- |
| | Swipes his weapon in a small arc without even moving his arm. |
| Forward + | Swipes his weapon in a larger arc and makes a hand gesture. |
| Dash + | Mewtwo spins his weapon out in front of him dealing many weak hits. It is one of the only ways to hit an enemy with Lip's Stick that won't result in a flower being planted on them. |
| Smash Forward + | Holds his weapon above him parallel to the ground, then brings it down to the ground. Decent. |
Special Attacks
[
edit
]
| Button(s) | Attack | Description/notes |
| --- | --- | --- |
| | Shadow Ball | While on the ground or in the air, press and Mewtwo will start charging his Shadow Ball. Any enemy that comes into contact with the Shadow Ball while Mewtwo is still charging will be damaged slightly. While charging, press or to cease charging, or left or right to dodge in that direction. If Mewtwo finishes charging, but is interrupted, the charge for the Shadow Ball will still remain, as long as Mewtwo had charged for long enough. The Shadow ball will cause an explosion if it hits an obstruction in it's path, which can cause damage to any enemy close enough. Throwing a partially-charged Shadow Ball big enough, will cause you to recoil, significantly if you are in the air while throwing it. |
| + | Teleport | Mewtwo will immediately move from one point to another. There is a very short wind up time before Mewtwo teleports. Thus you are able to move in a direction in which you wish Mewtwo to go when he teleports, however, you must be quick, otherwise he will just teleport up. This move makes Mewtwo invulnerable while he is teleporting, so when he uses Teleport, he cannot be attacked. |
| + | Disable | Mewtwo will jerk his head and release a short-distance attack represented by two shiny dots. Mewtwo must make eye-contact with the enemy for it to work. How long the enemy is disabled depends on the current damage of the enemy, much like Jigglypuff's singing, but it doesn't last as long. If you use this move while the enemy is already disabled, the enemy will get knocked away as if he was punched, doing 1% damage. If you use this move on an enemy who is in the air, they will also get knocked back as if they were punched. Note that this attack is considered a projectile and can be reflected back into Mewtwo. |
| () + | Confusion | Mewtwo will spin an enemy around whether he or she is in the air or on the ground. It causes a maximum of 10% damage and will degrade to a minimum of 5% damage if it is used continuously. After using this move, the enemy will pratfall, but can still use an aerial attack move if he or she is quick enough. It can also be used to deflect (not reflect) projectile attacks. |
Mewtwo's throws are the strongest attacks he can dish out, but they require precision timing and aim to pull off.
| Control Direction | Description/notes |
| --- | --- |
| | Mewtwo jumps above the enemy and whips himself around with his tail, hitting the enemy. A good combo starter. |
| Forward | Mewtwo lifts the enemy up and blasts it with 5 mini-Shadow balls. The Shadow balls almost always hit and can hit other fighters caught in the line of attack. If the opponent DIs (hold) up during the throw, generally they will fly above most of the shadow balls and come down to punish the throw. Not recommended. However, the throw cannot be DI'd out of in version 1.0. |
| | Mewtwo spins the enemy around himself and shoots it right into the air. A powerful killing throw, especially on lighter opponents. |
| Back | Mewtwo maneuvers the enemy over his head and throws him back behind him. Another powerful killing throw, especially near the edge. |