Jump to navigation
Jump to search
This is the first game in the Sword of the Stars series. For other games in the series see the Sword of the Stars category.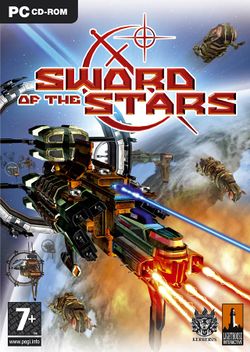 Sword of the Stars is a space strategy game by independent developer Kerberos Productions. A demo was released on FilePlanet on Tuesday July 25, 2006 that allowed players to play as either Humans or Tarkas. Sword of the Stars was released August 22, 2006 in North America and September 8 in Europe by Lighthouse Interactive.
According to statements made by Kerberos employees at the Kerberos community forums, a sequel had always been a likely addition to this series. The first expansion for the game, Born of Blood, features a new race, the Zuul, as well as select interface improvements.
On October 3, 2008, the second expansion to Sword of the Stars, A Murder of Crows, featuring the Morrigi race and new Xeno Tech and Drone technologies, was released initially through GamersGate as a limited time exclusive. It has since been released under other digital distribution channels.
Sword of the Stars seeks to streamline the 4X experience through a simplified design intended to avoid feature creep. 4X games in recent years have tended towards complicated designs and steep learning curves, which can be intimidating for many players. Sword of the Stars takes a more back to basics approach, leaving out many features such as ground combat and fighters. It also features a more simplified colony development model that replaces buildings with infrastructure, which utilizes the planet's resource base to provide production points that can be utilized for infrastructure development, terraforming, producing space vessels, and production of trade goods capitalized for money.
Sword of the Stars is also noted for the use of completely different propulsion systems for each race, as well as completely different ship art.
Table of Contents